Learning is something you must do throughout life, and in childhood, it is one of the most important factors, as it is when everything starts. Most toddlers and teenagers are sent to schools and colleges, but many study at home.
Whether the former or the latter, KiwiCo offers materials for learning in the most fun way, and they specialize in teaching children who belong to homeschooling families.
What is KiwiCo?
KiwiCo is an online subscription service that provides different educational materials through boxes. These subscription boxes vary according to each child's age and level of study, although there are also boxes for older children.
Since its inception in 2011, KiwiCo has sold its educational boxes at fixed prices, with topics selected by different professionals, including teachers and educators of various levels, engineers, manufacturers, and even scientists.
According to KiwiCo's official website, they have sold more than 10 million boxes for all ages. In addition, these boxes were developed and tested for more than 1000 hours (per box).
Which are the types of KiwiCo boxes according to age?
There are a variety of boxes offered by KiwiCo for different age groups. These boxes are shipped free to any location within the United States.
Panda Crate: This crate is designed for newborns to 2 years (0 – 24 months).
– Bond with Me: 0 – 2 months.
– Sense with Me: 3 – 6 months.
– Explore with Me: 7 – 12 months.
– Count with Me: 13 – 18 months.
– Solve with Me: 19 – 24 months.
Tadpole Crate: This box is intended for children under 3 years old.
Koala Crate: For 3 and 4-year-olds.
Original Crate: This box is aimed at little ones between 5 and 8 years old, and its content is about art and science in particular.
Atlas Crate: For 6- to 11-year-olds to learn about geography.
Yummy Crate: This crate is designed for kids ages 6 to 14, who will learn the best recipes and all about the science of cooking.
Doodle Crate: Kids ages 9 to 16 will be able to learn about different aspects of art.
Tinker Crate: This is like the Doodle Crate (for 9 to 16-year-olds) but deals with engineering and science topics in general.
Eureka Crate: This box is for ages 14 and older interested in design and engineering.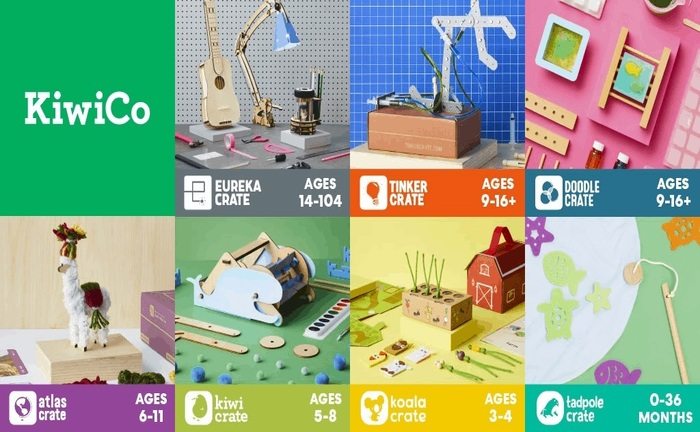 How much does a KiwiCo subscription cost?
KiwiCo offers different subscriptions depending on how many months the membership lasts. Remember that subscriptions renew themselves. As soon as the billing cycle ends, a new one will begin, as long as you have not canceled your KiwiCo subscription, which you can do so many times.
| | |
| --- | --- |
| Duration / One-Time Purchase | Price |
| 1 month | $23.95 / $27.95 |
| 3 months | $21.95/month / $67.95 |
| 6 months | $19.95/month / $124.95 |
| 12 months | $18.50/month (discount) / $229.95 |
Things to keep in mind when canceling KiwiCo
To cancel a KiwiCo subscription, you must do so after receiving your first box, whether a free trial or a monthly subscription.
Subscriptions of 3, 6, 12, 24, or 36 months that do not renew cannot be canceled but will expire as soon as the term runs out.
3, 6, or 12-month auto-renewing subscriptions can be canceled anytime but the cancellation will be effective on the next billing. In other words, you only need to deactivate the subscription before half of the current prepaid time.
This deactivation serves to cancel the subscription automatically. To do so, you will have to do it as we will explain below (via the web or by mail).
The monthly or free trial subscription can be canceled at any time.
What are the requirements to cancel KiwiCo?
If you have decided to cancel your KiwiCo account and request to unsubscribe from the service, you must have the following contact details of the subscriber at hand.
First and last name.
Telephone number.
Email address.
KiwiCo username.
KiwiCo password.
Billing address.
Zip/Postal Code.
State/Province/Region.
City.
Country.
Last four digits of your credit/debit card used to pay for membership.
Reason for ordering cancellation.
Date and amount of the last charge.
How to delete or cancel KiwiCo from the web
To cancel your KiwiCo account and subscription online, follow these simple steps:
Log in to the KiwiCo website.
Log in to your account, from this link, with your email address and password.
Locate the "Subscriptions" option on the top right-hand side of the screen.
Under your name, select the "Edit" option and the type of subscription you want to cancel next to it.
Then click on "Cancel subscription".
We recommend that you save the cancellation voucher number and the email confirmation in case of possible misunderstandings.
To cancel your subscription, you must do so before 11:59 pm the day before the billing date. If the due date is 10/24, you must cancel your KiwiCo subscription on 10/23 before 11:59 pm. Otherwise, you will be charged the following rate.
How to cancel KiwiCo by email
Canceling KiwiCo is very easy to do by email. Just follow a few simple steps:
Compose the email with all your account information in the previous section.
Add in the email that you want your account to be canceled.
Ask a customer service representative for the confirmation number or email that you can contact to ensure that the cancellation has been successful.
Send your email to cancel@kiwico.com.
Save the transaction and confirmation number they will send you so you have proof that you have canceled the service and your account.
Remember to contact customer service Monday through Friday from 5 am to 5 pm PST or Saturday and Sunday from 9 am to 5 pm PST. You will receive a response during business hours if you send an email outside these hours.
If you have any questions, please call 1 (800) 714-4828.
References