The world of video games is fascinating and more complex than we think; behind them, there are many people who work hard to bring them to the market, as well as a lot of creativity.
We can find programmers, illustrators, project managers, and marketers, among many others; however, one of the most essential roles is the game designer.
This is the person in charge of thinking, specifying and developing the entire concept of the video game: the story, characters, levels or worlds, challenges, rewards, rules, design style, aesthetics, etc.
If you are a professional who is passionate about video games or already works as a game designer, one of the things that can serve as a stepping stone to gaining experience are internships.
What are the benefits of an Internship?
In this industry, as in many others, internships are the ideal opportunity to put your knowledge into practice and establish contacts that can be useful in the future.
Some of these internships may or may not be paid; however, if you perform well in the company, you will likely be considered for a position or formal contract.
Finding Game Design Internships in the US
Generally, internships require some degree or level of study, so to get one about ​​video game design, you must be prepared in that area.
At the end of this article, we will tell you what you can study, in case you have not decided yet.
On the other hand, to look for such internships, we recommend these options:
Visit web pages specialized in posting job opportunities
Platforms like Gamasutra (www.gamasutra.com/jobs) and Indeed (www.indeed.com) have specific sections for jobs and internships in the video game industry.
Whether on these pages or others, you can use keywords like "game design internships" to find available opportunities.
Also, remember to take advantage of social media. Although they are not focused on job search, you can find very good opportunities if you know what content to share and who to interact with, for example, through Linkedin.
Follow and directly contact video game companies
Many of these companies already have internship programs designed for students and graduates.
Research the companies that interest you and check their websites. If you do not find information, you can always email them showing interest in doing an internship there. Initiative is very well rewarded in these situations.
Some of the most significant American companies that offer internships are:
Electronic Arts (EA)
Activision Blizzard
Ubisoft
Rockstar Games
Naughty Dog
Bethesda Game Studios
Insomniac Games
Valve Corporation
Epic Games
Bungie
Riot Games
2K Games
Square Enix
Sony Interactive Entertainment
Attend events and conferences
Networking in these types of activities is an excellent way to establish contacts. For example, you can participate in events like the Game Developers Conference (GDC) and PAX (Penny Arcade Expo).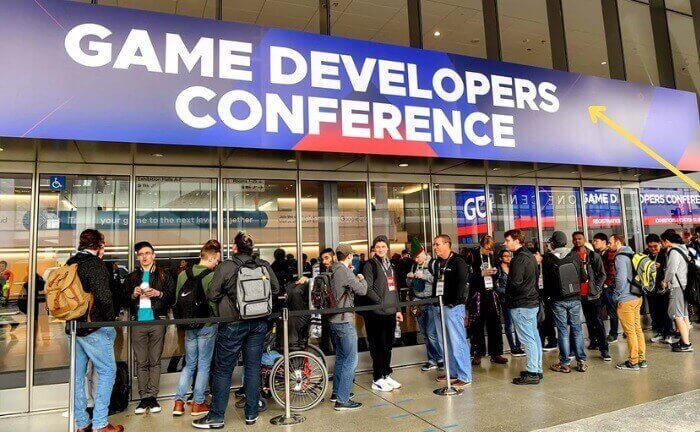 Remember that competition for game design internships can be high, so it's essential to highlight your experience, skills, and passion for gaming during the application process.
Be sure to prepare a strong cover letter and resume that highlights your educational background, relevant projects, and any previous experience in game design. You can also create a portfolio, which is more visual, to showcase your creations and ideas.
What to study to become a game designer?
If you do not have training in game design, it is important that you choose a path to start with. However, there is no single route into this role; in fact, several areas of study can give you a solid foundation. For example:
Degree in video game design
Here you will learn specific issues for the workplace: concept, level design, narrative, programming, visual aesthetics, etc.
These programs usually cover technical and creative aspects so you can fully develop your creativity.
Degree in graphic or multimedia design
Studying graphic or multimedia design can give you the visual and artistic skills needed to develop a video game.
You will learn about: principles of design, illustration, animation, and 3D modelling, among other things, to bring the virtual world to life.
Programming and software development
Beyond the concept and the creative part, studying programming will give you the foundations to build the project and optimize its performance digitally.
You will be able to master popular programming languages in this industry, such as C++, Java or Python, as well as Artificial Intelligence systems.
It is important to note that, besides academic training, building a solid portfolio of work and personal projects is key to standing out in the video game design industry. Complete independent projects, participate in game jams and showcase your creativity and technical skills through your portfolio.
References