Therapy sessions are not cheap these days; therapists must dedicate their time to your well-being and listening to your problems. That is why websites like Talkspace have been developed. It is a platform in which you can have therapy sessions remotely; it is a more affordable alternative, but even if it is slightly cheaper, you might be wondering if your insurance can cover it.
Fortunately, yes! Talkspace has a wide range of partners, and if you have an insurance policy with one of them, you can choose to get coverage for the treatment you need. If you do not have an insurance provider, you can still pay out of pocket, but getting a plan is recommended.
On the other hand, although face-to-face sessions create a better experience between patients and therapists, there are other benefits to getting online ones, and with the help of an insurance provider, you can use Talkspace at no cost.
Insurance Partners of Talkspace
Talkspace has an extensive list of insurance providers ready to cover your expenses. Some of the best known are Cigna, Optum, and Resources for Living, but there are others like:
Premera

Gatorcare

Aetna

Blue Cross and Blue Shield

Americhoice

Firstcare
You can look for the full list of partners on their website by clicking here. However, to fully proceed with the payment plan, there is an easy way to look for your insurance provider. First, go to the main page and click on Get started.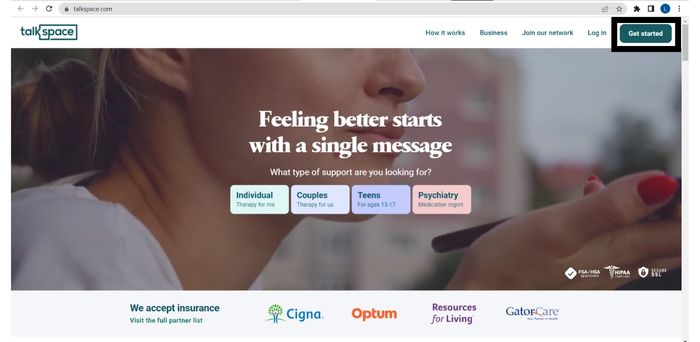 Next, select the type of service you require at the moment.
Answer some quick questions to adjust the preferences of the therapy.
Enter your date of birth and the state where you currently live.
And finally, choose how you want to pay. You can choose to pay with your own money or with the help of your insurance provider.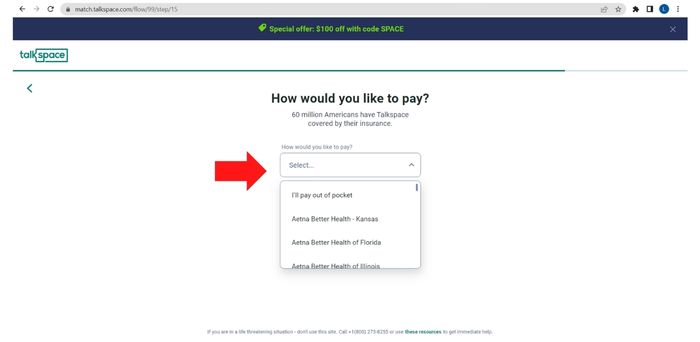 Be really careful when choosing. Some insurance companies provide assistance in different places, so pick the one from your state. After that, you must follow the prompts to create your account and establish your coverage with Talkspace.
To know if you are still covered, log into your Talkspace account and click on your username in the top left corner of the screen. Look for Check my coverage and confirm your status with the provider.
Other options besides insurance
If you do not have an insurance plan or your current provider is not a partner of Talkspace, you would have to pay out-of-pocket costs. Though, there are other alternatives that you can check to pay Talkspace's fees.
For instance, a Flexible Spending Account (FSA) and a Health Saving Account (HSA) can help you ease the price of therapy sessions. These health care accounts let you put aside money for these situations. So be sure to talk with the one you choose and ask for the requirements.
For Medicare and Medicaid users Talkspace is not available to cover the funds. Although, some companies do offer their employees the option to get therapy sessions online.
Pros and Cons of Talkspace
PRO: Not everyone has the accessibility to go to a facility or office, especially people with disabilities. With Talkspace, they can access online therapies at any time and chat with their therapists without leaving the house.
PRO: These sessions can be modified to the needs and desires of the patient, including different payment plans that adjust to their economic state. So, be ready to talk to your insurance if you choose this service.
CON: However, not everyone prefers this type of session at long distances. Getting interaction face-to-face can help strengthen the bonds and build even more trust. On top of that, you will need a stable internet connection to talk properly with your therapist, especially if you are in a live call.
In the end, knowing how you prefer to receive help is important. Talkspace opens new roads for people who cannot afford direct therapy sessions, and with the number of insurance partners, there is nothing to be worried about.
Was this Content Helpful?