The Buy Now Pay Later payment format has undoubtedly generated different companies, such as Affirm to position themselves for the user. Thus becoming a payment option to consider, at least when looking to buy something without generating a direct expense. Thus providing an opportunity to buy any item that interests us and pay in parts.
Although Affirm is considered the leader of this kind of company, there are many others in the market that are positioned as ideal options for the application of this kind of payment. Therefore, it is totally worthwhile to review them to find the ideal one that best suits the needs of the specific moment.
Affirm's differentiation in the market
Affirm is a financial technology company that allows consumers to make purchases and pay in installments with transparent and flexible payment options. While there are other companies in the market that offer similar services, Affirm stands out for its user-friendly interface, simple application process, and low-interest rates.
In addition, Affirm is a company that focuses its vision on offering specialized customer service. Every user who has an account will be able to get the best possible attention without any problems that directly affect their experience. Thus being a truly differentiated entity in this business market.
Alternatives for Affirm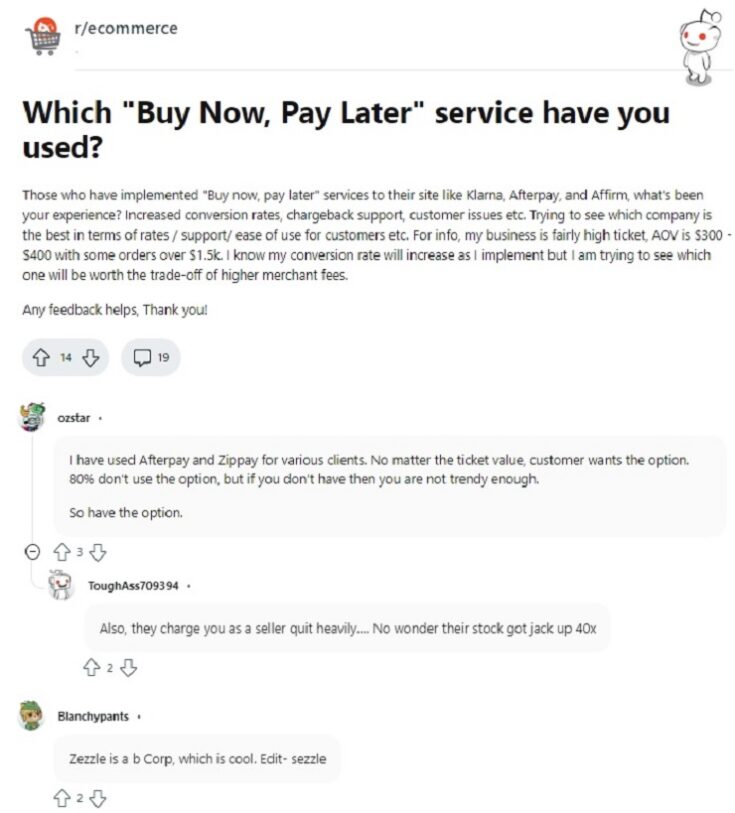 Some of the companies that offer similar services to Affirm are Klarna, Afterpay, QuadPay, Sezzle, and PayPal Credits. Each one of them has its characteristics that differentiate them from their direct competitor Affirm. However, these are often undervalued to a certain extent, since they are not as well known as the aforementioned company.
Klarna
Klarna is a global payment and shopping provider that offers its users a buy now, pay later service. The company allows consumers to shop at their favorite merchants and pay in interest-free installments. Unlike Affirm, where only two installment payment options are presented, Klarna offers fully customizable installment options.
The company also offers other financial services, such as personal loans, savings accounts, and credit cards. Allowing you to save not only money but also time with customized transactions that are accelerated by a truly user-friendly interface. Getting cash or money from Klarna is entirely possible.
Thus, Klarna is considered a direct competitor of Affirm, since to a certain extent it presents the same possibilities trying to go one step further. Always based on transparency and the rewards that can be obtained if you approach their services in the right way.
Afterpay
Afterpay is another popular "buy now, pay later" company that has presented itself as a natural option since 2014. The company allows consumers to split their purchases into four equal payments, without interest or fees.
This is how it has managed to position itself and work with more than 63,000 merchants around the world, making it a convenient option for consumers who want to shop at a wide variety of stores; in fact, many
furniture stores work with Afterpay,
giving you the
opportunity to accommodate payments
at all of your favorite stores, thanks to a process that will take just a few minutes.
Although Afterpay only offers the possibility of dividing the payment into 4 installments, it is characterized by an immediate response in the loan plans. So in a matter of seconds, you will have an automated response on your decision to buy or not.
Zip (Formerly Quadpay)
Zip is a company that allows consumers to split their purchases into four interest-free installments. The company partners with more than 1,500 retailers, including popular brands such as Nike, Sephora, and Target.
The company also offers a mobile app that allows users to manage their payments and view their transaction history. Thus proposing 6-week plans where you will have the ability to pay for any of the purchases made in portions. Without any fees as long as you do not fall behind in your payments on the platform.
One point to consider with this platform is the fact that it is considered one of the most likely to affect your credit history if you do not pay on time. However, this is something that will not impact you if at the time of paying the money you are comfortable and avoid late payments, which makes this side effect not as important as it would be otherwise.
Sezzle
Sezzle is a payment platform that allows customers to buy now and pay later. It works by dividing the total purchase amount into four interest-free payments spread over six weeks. Thus, this platform is designed to make shopping more affordable and accessible, especially for those who do not have access to traditional credit options.
Sezzle's unique approach to payments is beneficial to both customers and retailers. It allows customers to make larger purchases without incurring high-interest rates and also helps retailers increase sales and customer loyalty. Sezzle pays retailers upfront for the purchase, so they don't have to worry about delays or payment problems.
This company presents itself as a convenient and flexible payment solution that is gaining popularity among shoppers and merchants, with up to, 47000 participating brands. Leveraging a user-friendly interface that is combined with employee engagement.
Paypal Credits
PayPal Credit is a convenient and flexible financing option that allows customers to make online purchases and pay for them over time. It works like a line of credit, allowing customers to borrow money to make purchases and then repay the balance over time with interest.
Customers can use PayPal Credit to make purchases at millions of online merchants, and the application process is quick and easy. Once approved, customers can start using and increase PayPal Credit immediately to make purchases and enjoy the convenience of paying in installments.
References