The name Uber has positioned itself as one of the most popular and widely used transportation companies internationally. Not only because of the quality of the service thanks to attention such as the Uber Greenlight Hub, but also because it provides the opportunity to generate an extra or fixed income for many individuals with just their car.
In fact, the success of its Uber driver program has allowed this company to generate more than 2,500,000 trips in a single day in the United States alone.
But, if we want to discuss the profitability granted, we must consider different aspects. For example, passenger demand in Miami is not the same as in New York, which makes a considerable difference. Likewise, the standard figure could be favored by obtaining tips. In fact, the estimated rates of an Uber depend on the same tips.
But, how much can one earn as an Uber driver?
Generally speaking, we should clarify that the rates may vary in each country, but specifically in the United States the figures are calculated according to minutes and miles. An Uber minute can cost from $0.80 or up to $1 approximately, the same for every 1,700 meters.
Elements that affect an Uber's salary
Among the factors to consider is productivity, with the more runs you make the amount collected can increase up to $15 or $20 per hour. And even then, there are testimonies of how many users have managed to earn up to $200 at the end of the day, quite an attractive rate undoubtedly.
But, as mentioned, this may not always be the case. Although there was some decline in demand for Uber transportation during the pandemic. Recent reports by the Economic Policy Institute in Washington, state that it has almost a million workers.
Which, in some ways, is not very flattering for everyone. Since there are so many people available at the time of needing, mobilizing, or ordering a delivery, that number reduces the chances of being chosen.
Thus, many users who dedicated a considerable time to the transportation service have reported that the figure has sometimes been reduced to as little as $9 per hour.
In a matter of months, an Uber driver can generate $200 to $300 per month, but to this figure, we must add certain expenses. For example, within that price are deducted maintenance and gasoline expenses, and of course, the commission generated by the company.
And, how much can you make with Uber eats in a week?
Uber eats, an extension of the traditional service, but dedicated to the mobilization of food or groceries, at the time of its launch, delivered a very striking novelty.
Uber eats gives its drivers the opportunity to use any vehicle at their disposal. And by that they mean bicycles, scooters or skateboards, motorcycles and even walking. Which is maybe a more advantageous alternative for many, but is it really better?
Remembering that the delivery backpack that helps keep food warm is not free and that, if you don't own a car, another means of transportation involves more physical effort, it is up to you whether it is worth an average of $10 an hour, the amount of which may vary according to your productivity.
Thus, we could
estimate an uber cost
or the independent salary of an Uber eats driver, which in New York or Manhattan, can hover between $850 and $900 approximately.
Can you make $500 a day with Uber?
If we consider a standard rate of $15 to $20 per week, we could say that it is totally possible to generate almost $100 at the end of a working day. But, we can't forget that the amount can increase depending on the number of trips and the distance of each trip.
There are many suggestions that can help you generate more income in a day as an Uber or Uber eats driver. One of them is to work during holidays or busy local events. That way, the high demand for transportation will encourage the flow of work.
What do I need to do to make $500 in a day?
To make $500 a day you must manage to complete approximately 10 trips efficiently and safely. You must be prepared to work that day and inform yourself in advance regarding the estimated traffic. This forecast is easily visible in the same Uber application.
What is the oldest car Uber will accept?
As we can imagine, to be a verified driver under the name of Uber you must meet certain requirements. In the same way, it happens with the workers' vehicles, which are required to meet certain parameters to offer an optimal service to all its users.
Capacity
Among the first guidelines set forth by Uber is that the car must have the capacity to transport at least 4 people.
Safety measures
Since it is a means of transportation in high demand at times, it is necessary to have adequate safety. This includes seat belts, airbags, grab handles, and emergency brakes.
Year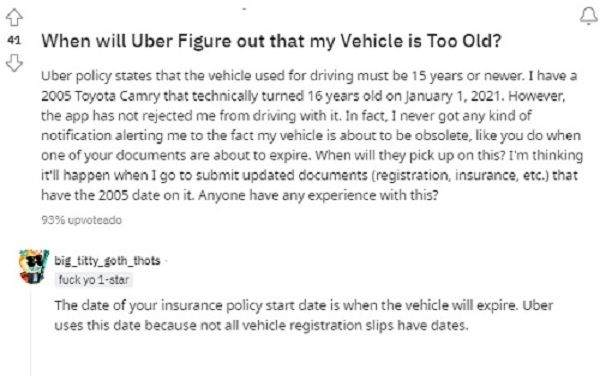 Uber requires its driver applicants to have operational and fully functional cars. In addition, they must be recent models or, failing that, no more than 10 years old. Within the list of preferred or most frequented cars for Uber are:
Chevrolet Aveo
Hyundai Grand I10 automatic
Dodge Attitude
Nissan March
What disqualifies you from being an Uber driver?
There are basic requirements to be an Uber driver, in the United States and around the world, but it is not enough to only be of legal age and have a driver's license. Apart from that, there are other guidelines to follow to avoid being disqualified as an Uber driver:
Corresponding immigration documents. A student visa or non-resident workers do not apply
You must have at least 3 years of driving experience
If you have a criminal record, you may not be approved due to Uber's policies
Your car must be insured and have all its documents up to date
Make sure your car has not already been registered with Uber, otherwise you will be disqualified
How long does it take to become an Uber driver?
Of course, although the registration process to the Uber platform can easily be completed in one day, you must wait a while to be approved. Since you must consign a certain amount of documents and requirements for the team to analyze and decree them valid and approved.
Personal identification
Vehicle data and documents
Certification of criminal record
Residence documents and address of residence
Social security number
Approximately, this process takes between 2 or 3 days to be confirmed by the company and, from this approval, you can start.
In case this time has passed and you have not been approved as a driver, there may be some inconvenience with your documents that does not allow you to move forward. Maybe not having the immigration documents in order, or someone is already using the vehicle serial number.
Is it hard to get a job at Uber?
In the United States, those who freelance with the Uber app are legally known as 1099 contractors. So you are not considered a wage earner, since you work at your "convenience".
Uber gives its drivers the opportunity to adapt their work or personal schedules to continue to work as a transporter according to their needs. So many Uber drivers choose to make just a couple of trips from time to time as extra income.
The best of working at Uber
Schedule totally adapted to your possibilities.
You can dedicate the necessary time and effort.
It is possible to work on holidays and take advantage of the rate increase.
The more serious you are about your work, the more income you will get.
The amount of work is up to you
If you want to reach considerable figures offering your transportation services you will need to dedicate time and effort. As we mentioned earlier, the more rides you manage to do in a day, the more it will be reflected in the monetary results at the end of the day.
Location and demand
We've also pointed out that some of the factors that influence Uber's traffic and requests are: the city and the time you work. In New York City, there is more demand for Uber drivers to move the heavy traffic of this working and busy capital.
In addition, during holidays like Christmas or New Year's, the number of people requesting to be mobilized by an Uber vehicle increases. In addition, fares are considerably boosted by the same demand of people these days.
Fixed or extra income
Similarly, the workload that will fall on an Uber driver will depend on how significant the payment received by the application is. The more time spent, the better it pays off.
So, if it is considered an additional or adjunct job, the income will closely resemble those aforementioned terms. On the other hand, an individual who applies a greater commitment, seriousness, and amount of hours to this work, has the possibility of turning it into their livelihood.
So, in general terms, we can say that this is an unconventional work method that can be enhanced according to your efforts.
References