If you like to shop, you may have found out about the new Aldi stores and the new Costco stores. But researching about working at Lululemon will be a unique and fun experience. This is a company focused on the integral development of everyone who works at its facilities. Its employees have access to different benefits such as cash bonuses, sales commissions, and store discounts.
Lululemon is one of the most recognized retailers in the country, being an ideal place to work professionally in different areas. In addition to having salaries adjusted to the profile of each professional, they offer different benefits to employees to maintain motivation and excellence in all their sales branches.
What is the salary of a Lululemon employee?
As of June 2023, the company has an average salary of $24.38 per hour for Lululemon educators, who are responsible for teaching the company's operations. One of the highest salaries at Lululemon is that of the director of Technology at $201,000 per year. A regional manager has an annual salary of $115,026.
| | |
| --- | --- |
| Job | Salaries |
| Sales Associates | $15 per hour |
| Lululemon Educators | $24.38 per hour |
| Software Engineer | $56.04 per hour |
| CS Representative | $36,286 per year |
| Operations Manager | $73,313 per year |
| Finance | $91,627 per year |
| Regional director | $115,026 per year |
| Head of Engineering Department | $147,692 per year |
| Director of technology | $201,000 per year |
| Product manager | $224,254 per year |
| Director of business development | $302,120 per year |
A software engineer has a salary of $56.04 per hour. Similarly, the Director of Business Development has a salary of $302,120 per year, the highest in the company. In contrast, there is the CS Representative, with $36,286 per year.
Other professionals such as the operations manager are positioned with $73,313 and finance with $91,627. The group's product manager has annual earnings of $224,254 and the engineering department has an annual compensation of approximately $147,692. Finally, there are sales associates with an average salary of $15 per hour.
As you can see, the salary of each employee changes according to the area in which they work and the knowledge they have to offer to the company. Lululemon seeks to get the best out of all its employees and, in addition to their salaries, offers different services and benefits to improve job performance.
The highest-paid Lululemon stores in the U.S.
Although the company is the same in different cities, the truth is that depending on the management of each branch, the salary of the employees may vary. In this sense, the salary for a Lululemon educator is higher in Daly City, CA, with an average of $10,999.
In Berkeley, CA it is $13,113. San Francisco also has a higher average. We don't have an explanation for the change in salaries depending on where you apply, but if you are in one of these cities, it's time to apply.
The hourly wage in Berkeley is $30.68, which is much higher when compared to other cities in the country. On the other hand, in San Francisco you get an hourly wage as an educator of $27.49, showing an improvement compared to other states in the country.
In total, there are 10 cities with better salaries, where you find: Berkeley, Merced, California, Daly City, San Mateo, California, Irvine California, Tacoma Washington, Richmond, Johnstonville, Bellevue Washington, and San Francisco.
Lululemon Employee Benefits
The retailer's managers know the importance of keeping their employees motivated with their professional work. It is not enough to offer a competitive salary, it is also important to offer some additional benefits and services that they can enjoy. Among the benefits are:
Vision insurance
Paternity leave
Disability insurance
Vacations
Employee discounts
Paid time off
Savings plans
Fitness classes
In addition to advocating equal pay, Lululemon accommodates the needs of each of its employees. They pay attention to suggestions and try to offer them the amenities they need to make their work within the company the most suitable.
On the other hand, they have a program called "Purpose, Vision + Goals" guided so that all employees have established goals. A tool for each one to know what is really relevant and what plan they should follow to reach that goal.
How to seek employment at Lululemon?
The application process is simple through its online platform. The retailer has a simple web page for anyone to find all the information they need. The first thing to do is to log in here.
If you don't find the ideal alternative for you in the list, you can search for what you want in the search engine. All you have to do is enter a keyword, the region you are from, state, province, business unit, and area of interest.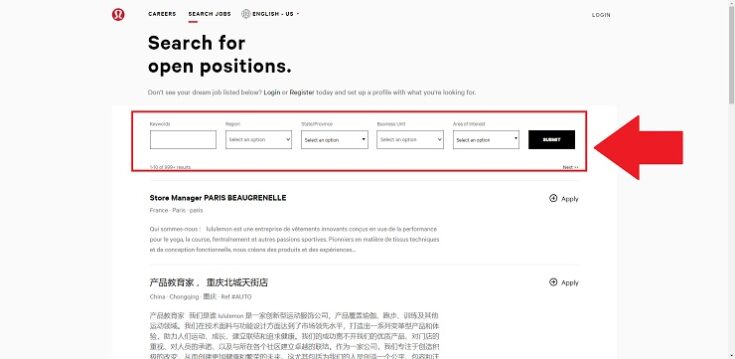 In this way, you customize your search and you will find all the results by scrolling down.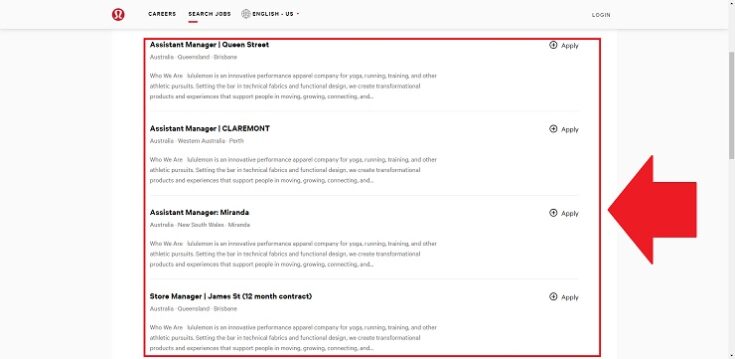 To improve the experience, it is recommended that you register on the platform. The process is simply to click on the "Sign In" option.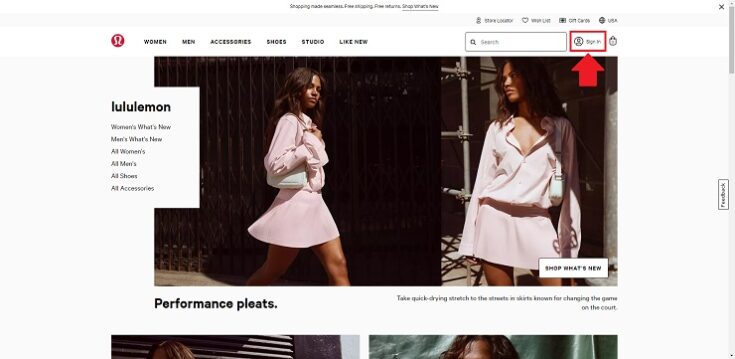 Register through "Create a member account."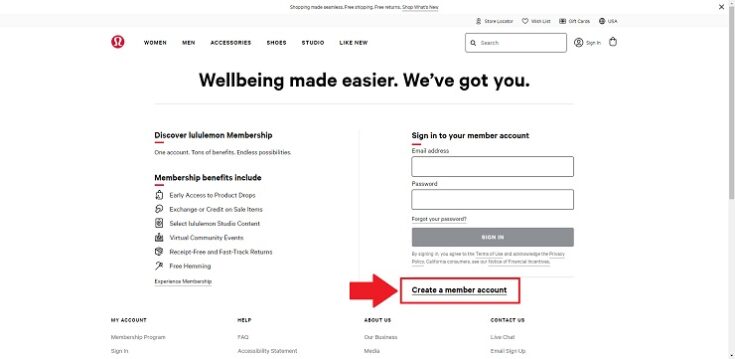 Add your information. This will make it easier to add all the necessary filters to find vacancies related to your profession and job desires.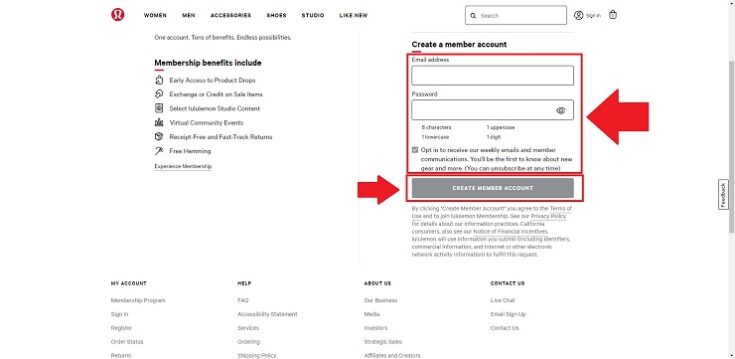 You can also inform yourself through social networks. Lululemon wants to get closer to all candidates and they have great ongoing news through their Facebook, Instagram, and Twitter pages. You can even ask questions through their accounts and you will get answers in no time.
How does the employee discount work?
This is one of the benefits that many employees are interested in, having the possibility to purchase merchandise from the stores for a better price is a great virtue. The discount depends on the number of hours you work in the store each week, based on this you can get between 40% and 60% discount on the merchandise you want.
For employees who work full time they get a 60 % discount on all merchandise, while those with part-time schedules enjoy a 40 % discount. It should be noted that it is considered a part-time employee to work a total of 25 hours a week.
Within the discounts are all store merchandise, there are no exceptions. However, it can only be used in-store, there is no option to add the discount for online purchases. Likewise, the benefit is for the employee only.
Nevertheless, stores have discount days for friends and family, you just need to be aware and inform your loved ones so they can enjoy Lululemon's options at a better price. In addition, you must know the return and exchange policies at Lululemon.
References