You've burned the midnight oil, you've done all the hard work, you're finished with the tests and application forms, and now it's time for one last hurdle. A college application essay that will wow the admissions officers.
A college application essay can often spell the difference between getting accepted at your desired college and getting rejected. These 500 or so odd words that you so painstakingly research and craft into a college essay are the most stressful and important of your academic career. 
The college admission officer will spend a few minutes reading your essay and you have to ensure that in those few minutes your essay grabs their attention. In this article, we are going to tell you how to write a good college essay that will make you stand out and improve your chances of getting accepted. Let's begin.
How to start a college essay
First impressions are everything. You need to make sure that your essay draws the admissions officer in and intrigues them into reading on. A great way to start a college essay is with a question.
Starting the college essay is by far the hardest part, and once you start the rest of the essay will seem easy. It is imperative that you put considerable thought into the first line of your essay. It has to be bold and interesting.
Addressing the reader directly is also a good strategy for starting your college essay, as it puts the reader in the middle of things and makes them feel more involved and invested in your essay.
Another thing to keep in mind is that, in many cases, telling the reader what you don't want to do leaves a much stronger impression than telling them what you want to do. It can give them an insight into why you are different from the other candidates.
How long should a college essay be?
The average length of your college essay should be around 650 words. This is the sweet spot. You don't want your essay to be too long as it might seem like a bit of a drag to the admissions officer. 
On the other hand, you don't want it to be too short either because you want to have enough words to explain what you are trying to say in detail.
➞ READ MORE: How to Prepare for a University Interview
How to format a college essay
When it comes to formatting your essay, you need to be very careful and pay attention to the minute details as everything makes a difference. If there are any guidelines that you have received from the institution, then make sure that your essay follows them.
Next, there are a few common-sense rules that you need to keep in mind:
The first thing is to use a font that is easy to read. You don't want to make it hard for the admission's officer to understand what you are trying to tell them.

1-inch margins are a good idea as they make the document easier to read.

Breaking up your paragraphs clearly is essential.

There is no need for a title.

Avoid using slang, emojis, hashtags, and any other informal features at all costs. You want your essay to look as formal as possible.
How to end a college essay
A good ending that provides closure to your essay and concludes it gracefully is as important as the beginning. You want to leave the reader with a few questions unanswered as you can. The conclusion of your essay is your chance to make one final argument as to why they should accept you.
To give your essay a sense of completion it is best to link your last paragraph to the beginning of your essay. It gives the reader a sense of closure and makes your whole essay more coherent for them.
Your last sentence should not contain complexity in the form of ideas or words. Keep the ending simple. The simpler it is the better its impact will be on the reader. One-syllable words are ideal for doing this.
The ending should be wholesome, complete, and impactful. So, take your time and end your essay in a way that leaves a lasting impression on the reader. Don't waste the ending trying to summarize your whole essay into one single paragraph. Use the ending wisely.
College Sample Essay
We can all suffer from a mental block from time to time and it is even more common when we are writing something as important as a college essay. It is always good to take a break and look for inspiration.
College sample essays are a great way to get inspired and take a fresh approach toward your college essay. You can find plenty of good college sample essays online, make sure to give them a read before writing your own.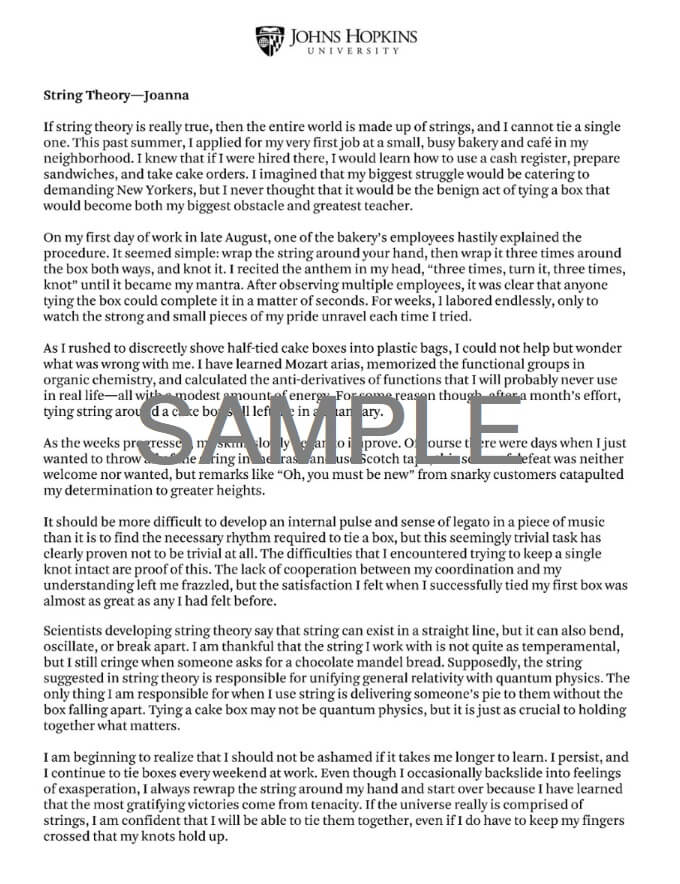 Was this Content Helpful?