The career of Interior Designer is increasingly chosen by young people who discover a passion for fashion and the accommodation of household items. However, an interior designer can perform several tasks in addition to decorating the environment.
Interior designers can choose different artifacts needed in the property, from furniture and decorative items to defining the best door or window that could fit the space. There are several functions that an interior designer can fulfill, but, to do so, it is necessary to meet a series of requirements, such as studying at university, among others.
What is an interior designer?
Interior designers are passionate about maximizing the place in which they must work, whether a house, an office, a hotel, etc. With the help of interior designers, you can make the most of the space in which you work. It is done through special planning or design.
The work of the interior designer begins by sketching the future final result, without first drawing the environment without modifications to know all the technical operations of the establishment. In addition, to provide a budget according to your needs, it is necessary to know the limits of both the property and the client's pocket.
On the other hand, the interior designer will study the area surrounding the space to be remodeled, as well as the different inconveniences that may arise, taking into account possible natural disasters, people's safety, and many activities that characterize architects.
What does an interior designer do?
Among the jobs and activities generally performed by an interior designer, we can mention the following:
Drawing several plans designed for the place to be remodeled.
Ordering the area and inspecting even the most minor details.
Contacting different specialists, such as gas fitters, electricians, painters, laborers, etc.
Devise bids for new projects.
Select interior decoration, such as tablecloths, curtains, sheets, armchairs, etc.
Follow up on the project.
Give a date and estimated price to the client.
Supervise the work of other professionals, such as construction or installation.
Create a budget for the client according to his needs and those of the place to be refurbished.
Meet with clients to exchange opinions regarding what will be changed.
How to become an Interior Designer?
Being an interior designer is more challenging than you might think. No matter how much passion you have for decoration and design, studying for an undergraduate degree is necessary to have a better chance of finding a job in this field.
1. Studying interior design
Another university degree related to interior design is architecture, undoubtedly the "best friend" of design. You could also be chosen if you have skills and work that allow you to make yourself known in the design and fine arts world.
Nowadays, people with university degrees or completed studies, knowledge, and experience in the field are sought after for jobs of this type of complexity. More and more universities are offering this career, so we recommend you consult the institution closest to your residence or look for schools that can give you a university degree recognized by the Council for the Accreditation of Interior Design.
Interior Design Accreditation Council. Depending on your location, these studies can last from one month to several years.
2. Seek internships and contact colleagues
One of the best ways to gain experience in the industry is to contact professional designers who can help you better understand design. In addition, they can serve as a source of inspiration and as your mentors since you will learn from them while pursuing your degree. Undoubtedly, this is one of the best ways to acquire knowledge and get into the design world.
The same goes for internships, which, even though many are unpaid, will help you get started. You can also ask for advice from interior design professionals, nourish yourself with knowledge and take new ideas that inspire you.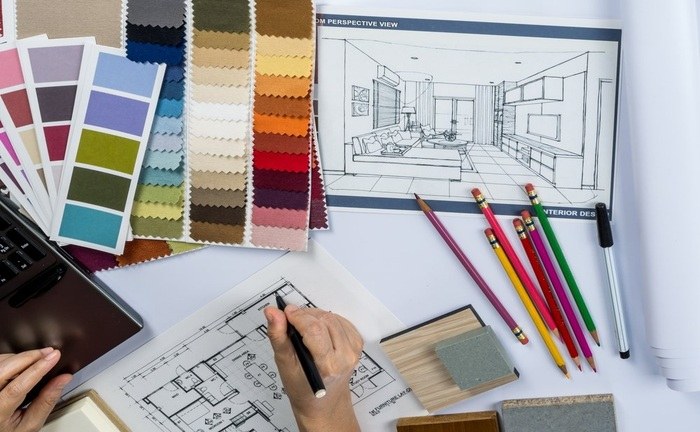 3. Achieve certification
The "National Council must approve your studies for Interior Design Qualification" (NCIDQ). This certificate will allow you to work as a designer in several states. To obtain this document, you need a degree as a Designer or Architect, and up to two years of verifiable work experience will be required beforehand.
In case you do not have experience, which can be very feasible, since to work they ask for experience, but where do you get the experience if everywhere they ask for this requirement? If you do not find a job that can give you the tools to put your knowledge into practice, you can take the Fundamentals Exam (IDFX).
It's a computer-based test that lasts 3 hours, and students must answer 125 questions in a multiple-choice test, of which 100 must be graded.
4. Create a portfolio for clients
This part is optional for those who start, but then they will have to implement it because it is necessary to have a portfolio with unique interior designs. It helps to have more clients since, without a portfolio of your plans, you will not inspire the confidence that someone with a portfolio will.
You can create portfolios based on more accessible projects, such as designing the interior of your own or a friend's house. Also, as we said before, doing an internship will be very useful for portfolio creation and, therefore, finding a job more efficiently.
Another option to demonstrate your experience besides creating a portfolio is to include customer feedback so the following clients can get to know your work and the final results. To get these testimonials, you can start your career by creating a profile on a social network where they can leave you reviews, such as Facebook. It is what will inspire the most confidence in future employers.
References
"How to Become an Interior Designer | The Art Career Project." The Art Career Project, https://www.facebook.com/theartcareerproject, 17 Feb. 2022, https://theartcareerproject.com/how-to-become-an-interior-designer/.
Raise Labs, Inc." "Interior Designers: Salary, Career Path, Job Outlook, Education and More – RaiseMe"" RaiseMe, https://www.raise.me/careers/arts-and-design/interior-designers/.
What Does An Interior Designer Do? YouTube, 5 May 2020, https://www.youtube.com/watch?v=2ers2sHQy2g.