TJ Maxx is a U.S. retail chain that offers a wide variety of products at discounted prices. The company specializes in selling name-brand clothing, footwear, accessories, home products, toys, and beauty items at discounted prices.
Founded in 1976, TJ Maxx has grown rapidly to the point that whenever you're seeking an option, you're likely to find one near you, giving you a chance to have an exciting experience with amazing items at discounted prices, from fashion apparel and accessories to home goods and children's toys, there is always something for everyone at TJ Maxx.
TJ Maxx near me in Houston
In Houston, the TJ Maxx near you opens at 9:30 AM Monday through Saturday. On Sunday, they open at 10 AM. However, you can visit them until 9:30 PM.
| | |
| --- | --- |
| Address | Phone Number |
| 1554 W Gray St, Houston, TX 77019 | +1 713-524-5582 |
| 9347 Katy Fwy, Houston, TX 77024 | +1 713-722-0199 |
| 5152 Richmond Ave., Houston, TX 77056 | +1 713-626-4335 |
| 13188 Memorial Dr, Houston, TX 77079 | +1 713-973-2692 |
| 425 S Fry Rd, Houston, TX 77094 | +1 281-398-3121 |
| 4520 Dacoma St, Houston, TX 77092 | +1 713-957-3646 |
| 3355 Clear Lake City Blvd, Houston, TX 77059 | +1 281-480-4276 |
| 2938 Eldridge Pkwy, Houston, TX 77082 | +1 281-679-1675 |
| 5319 Farm to Market 1960 Rd W, Houston, TX 77069 | - |
TJ Maxx nearest me in Philadelphia
If you live in Philadelphia, you can't miss any of these 5 TJ Maxx. All of them will serve you in the best way; in fact, their Google My Business ratings guarantee it, having up to 5 stars.
| | |
| --- | --- |
| Address | Phone Number |
| 1130 Market St, Philadelphia, PA 19107 | +1 215-454-6733 |
| 7301 Castor Ave, Philadelphia, PA 19152 | +1 215-342-1206 |
| 1851 S Christopher Columbus Blvd, Philadelphia, PA 19148 | +1 215-218-1950 |
| 7616 City Line Avenue, Philadelphia, PA 19151 | +1 215-879-2602 |
| 701 Cathedral Rd, Philadelphia, PA 19128 | +1 267-766-3783 |
How do I find a TJ Maxx near me?
Through its website, TJ Maxx offers you the possibility to find locations near you.
First of all, you have to click on the "Stores" button located at the top of the page.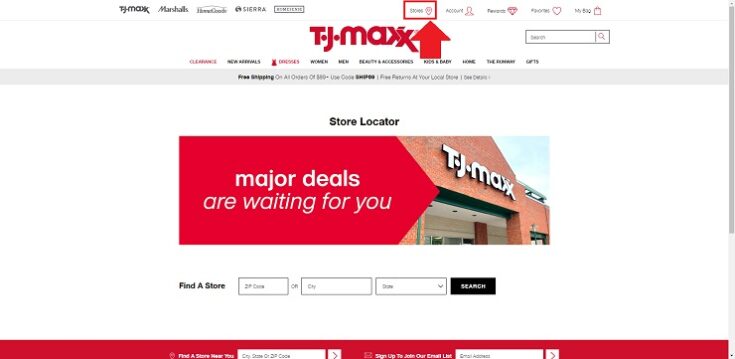 Once there you must enter your location in the search box that appears under the "Store Locator" heading.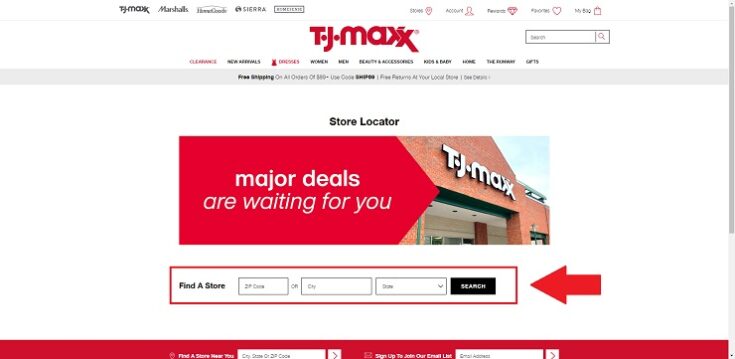 There you can enter your city, state, or zip code. The more details you have about your location, the easier it will be to find branches that have what you are looking for.
When you do this the page will display a list of TJ Maxx stores that are near your location. You will also see a map with markers indicating the location of each store.
If you would like more details about a particular store, click on the store name in the list or on the corresponding marker on the map.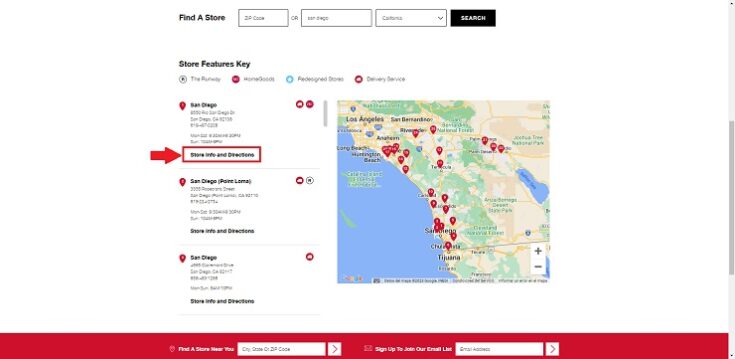 The store details page will display the address, phone number, hours of operation, and services offered by the store.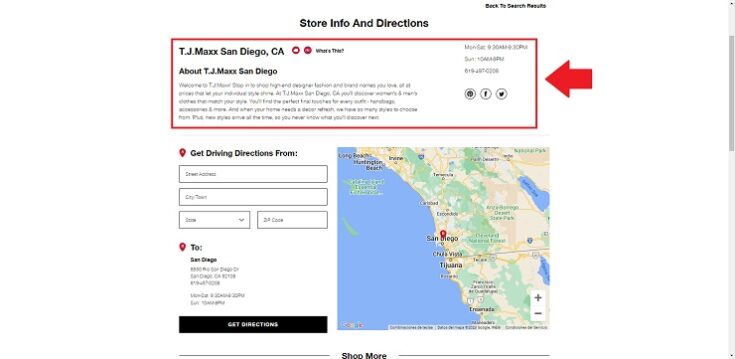 How many TJ Maxx are there in the United States?
By 2023, TJ Maxx will have about 1,500 stores nationwide, but that's not all. The company has experienced steady growth recently and has expanded its presence across the country. In addition to TJ Maxx stores, the company also operates other retail chains.
Together, these brands operate more than 4,500 stores worldwide, strategically located to address the entire market. TJ Maxx has become a popular destination for shoppers seeking high-quality products at discounted prices, and its broad product selection and frequent inventory turnover make its stores an attractive option for many consumers.
What are the other retail chains that TJ Maxx operates?
TJ Maxx owns and operates several retail chains, including:
Marshall's: offers brand-name apparel, footwear, accessories, home goods, and more at discounted prices. Like TJ Maxx, Marshall's focuses on offering high-quality products at discounted prices.
HomeGoods: specializes in home products, including furniture, decor, bedding, kitchen items, and more. The store offers a wide variety of high-quality products at discounted prices.
Sierra: focuses on products for outdoor activities, sports, and fitness. It offers a wide variety of products, from sports apparel and footwear to camping and hiking gear, at discounted prices.
Homesense: focuses on products for the home, including decor, bedding, furniture, kitchen items, and more. Like HomeGoods, Homesense offers a wide variety of high-quality products at discounted prices, but with a different selection of products and brands.
Together, these retail chains offer a wide variety of high-quality products at reduced prices and have been popular with consumers looking to save on their purchases without sacrificing quality.
Does TJ Maxx have rewards or credit card programs?
TJ Maxx offers a credit card called the TJX Rewards Credit Card, which gives cardholders the opportunity to earn exclusive rewards and discounts on purchases made at TJ Maxx, Marshall's, HomeGoods, Sierra, and Homesense stores.
Cardholders can earn rewards points for every dollar spent at TJ Maxx stores and its other brands and can redeem those points for discounts on future purchases. In addition, the card offers additional benefits, such as free online shipping and access to exclusive shopping events.
TJ Maxx also offers a co-branded credit card with MasterCard called the TJX Rewards Platinum MasterCard. This card provides cardholders with the same benefits as the TJX Rewards Credit Card, plus the ability to earn rewards points on all purchases made, not just at TJ Maxx branded stores.
Does TJ Maxx accept returns?
TJ Maxx accepts returns within 30 days from the date of purchase, as long as the products are in their original condition and with the purchase receipt. If you purchased online, you can also return products through the mail or at a physical store.
It is important to note that some products may have different return policies. For example, electronics and furniture have specific return policies that may differ from the store's general return policies. It is advisable to review the return policy on the sales receipt or on the TJ Maxx website before making a purchase to understand the specific return conditions for each type of product.
In general, TJ Maxx strives to provide excellent customer service, and if you have a problem with a product you purchased, the store will likely do everything possible to help you resolve it.