If you are studying and are looking for discounts to buy clothes, shoes, handbags, jewelry, or accessories, Kate Spade usually offers exclusive deals for students who need to buy any of these items.
If anything characterizes this brand, it is the social inclusion and its discounts designed for the pockets of its customers. Kate Spade is a benchmark of feminism, not only for her fashion store but also because she has been one of the leading women in the social movement since 1993.
What can I buy with a Kate Spade student discount?
Among all the products offered by Kate Spade, you can find all kinds of garments, from bedding and home decor to other technological accessories designed for those who stand out for their elegance and feminist style.
Two decades ago, what began as a handbag venture became one of the most recognized fashion brands in New York and across the country, thanks to its high-quality products.
At Kate Spade stores, you can get student deals on everyday apparel, handbags, jewelry, home goods, shoes, wallets, sunglasses, and much more, characterized by modern colors and unique styles.
What are Kate Spade discounts available for students?
Currently, Kate Spade student discounts are 15% and can be obtained online from Student Beans, Broke Scholar, and UNiDAYs. However, she always makes different promotions available to her customers.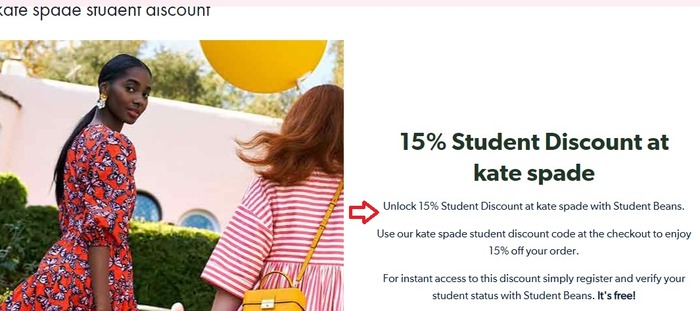 To give you an example, we will name some discounts she has made before:
70% discount on selected items.
Additional 25% discount on discounted products.
25% discount on Black Friday.
Free shipping.
Who is eligible for a Kate Spade promo code?
Students over 16 studying full-time at university, college, or high school and students on a training course can apply for their discount .
To access the Kate Spade discounts, you must log on to a student offer website that the firm is affiliated with, such as Students Bean, UNiDAYS, Broke Scholar, Save the Student, or Totum.
How do I use the Kate Spade student discount code?
To make use of a discount code in the store, follow these steps:
Go to the student deals website mentioned in the previous section and click on the button to get your discount code.
Then go to the official Kate Spade website.
Select the item you wish to purchase.
Click "Pre-order" to add it to your cart.
Go to "My Bag" and click "Apply Promotions", which appears on the top right side, as shown in the image.
Complete the purchase with your personal information after entering the code (you will see the discount reflected in the total price of the operation).
That's it! Just wait for your product to arrive at your home.
Is it necessary to have a student card to use the discount?
Sometimes, you must show your membership card to an institution that provides student discounts. For example, if you shop with Student Beans, you may be asked for your ID, but this varies depending on the store where you will use your discount. Apple or Samsung, for instance, ask for this document.
If you don't have your ID, register on the student deals website, and you can get different discounts on various product sales.
What student discounts does Kate Spade offer?
With Kate Spade, you can get 15% off with the promotional codes offered by Student Beans, UNiDAYS, Broke Scholar, and Save the Student, while Totum only provides 10% off your order. Remember to register at each website to enjoy your benefits.
How to get discounts at Kate Spade?
In addition to the websites mentioned above, you can get promotional codes through other methods.
On Kate Spade's official website.
She publishes exclusive offers for her followers on Kate Spade's social networks.
On Amazon. There you will find several Kate Spade products on sale. Prime members don't have to pay for shipping.
On eBay: Although they are not new, the Kate Spade items you can find on eBay are in excellent condition, even if used.
References: