In today's economy, there are many benefits that we, as intermediaries or people who make important expenses, can acquire. In these cases, there is a card called Netspend that has several benefits to the applicant and works in different points of interest in the United States.
These are prepaid debit cards that can be purchased at a specific location in the U.S.; all of them are useful to make payments and are very popular among foreigners who come for vacations or visits.
.
Alerts as a measure of balance information in Netspend
Netspend is a card with a varied functionali; thehe ways of knowing the balance and the expenses in the balance can be in different ways. One of them is the Anytime alert, which indicates the movements and activity of your card.
Here balances are reflected on a daily, weekly, or individual transaction basis for deposits received, declined transactions, budget notifications, and individual transaction details. This is specified in the same application on demand.
These alerts are compatible with most mobile operators and are made by a text message with the word "BAL" to the number "22622". You will be informed of the balance on your card or given the specific information you previously put in the application. This measure is functional in case you do not have internet in the area and need to use your Netspend card.
What number can I call to request a balance on my Netspend card?
At this point, if you want to know the balance of your account balance you can call 1-866-387-7363, which is the Netspend number where they will provide you with the required attention to resolve the following questions:
Debit card balance
Account access
Technical support
Account activation
Bad debit charges
These options are presented at the time of calling the indicated number, as well as the ATM locations, if you wish to read them you can also enter their website and see the nearest ones.
Logging on to the website as a means of balancing information
Another effective way to find out your prepaid debit card balance or net spending is by logging on to the Netspend website.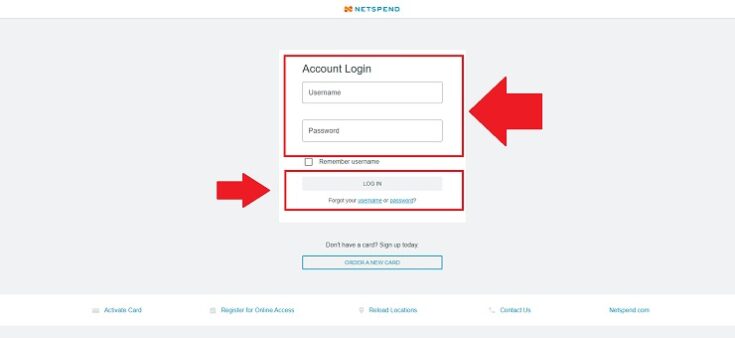 Log in with your username and password and review all the information regarding your card. From any laptop or tablet, this function is executed without any problem thanks to the security systems that act so that the information is not lost.
Using the Netspend application to review my specific spending
To review your specific spending and balance the Netspend application is a good way to do it, through the phone this application can be downloaded and thus enter its section to see the required funds.
In this part, besides the requested information (of expenses and net funds) you can also see all the check cashing, receive and send money, consult transactions, and see the nearest location of a Netspend recharge branch.
At these reload locations, you can order, check the status of your account, and if you need to reload it with money at that moment.
ATMs with Netspend
There are different lines of ATMs to use a Netspend debit card, these cover the Metabank, MoneyPass, Visa Plus Alliance, and Allpoint ATM network.
With them we can check the balance and spending information in our account or even withdraw cash if we wish, this is a great feature because many of these ATMs do not charge a specific fee for checking balances.
And they can be located through different internet search engines for direct use or through the information points offered by Netspend.
Advantages of Netspend cards
These prepaid debit cards have an important advantage that we must consider and highlight. Many people use these cards because of the expenses they usually generate on their credit or debit cards.
Benefits Netspend Cards
Netspend monitors your finances by alerting you to spending.
No credit history is required to obtain the card.
There are a variety of ATMs where you can withdraw money with the Netspend card.
The cost of the Netspend card ranges from $2 to $4.
You can receive your payroll two days in advance with direct deposit.
They offer a grace period for courtesy overdrafts in case of eventualities.
Netspend with its alerts allows you to monitor your financial situation at specific times and helps you not to overspend for these reasons. In addition, it is an adequate option to use a card abroad and to be able to use a card in the United States.
With these cards, you don't need a credit history to open them, and you have a wide variety of ATMs available, both in supermarkets and bank chains.
It is easy to apply, and you do not need to wait in long lines to cancel or buy one, its price is from 2 to 4 dollars to acquire it, and the registration or recharge is completely simple.
Another plus is that they give you the option to receive a paycheck up to two days in advance with direct deposit. And when you start with them you have a complimentary overdraft grace period or cushion available in case of an eventuality.
This overdraft option, if applied again after the courtesy cushion, has a cost of $20 and it is important to remember that if you no longer use this card, it is recommended that you cancel it to avoid fees.
References