We all love donuts, so a Dunkin' gift card would be a great option to give to our family, friends, or significant other. The card is reloadable, so they can continue to use it after consuming the gift.
Our beneficiaries can choose the flavors they like the most and eat them whenever possible. In addition, by registering the gift card on the official Dunkin' Donuts website (DD), you can earn discounts and maybe even free donuts.
I don't know how to check my Dunkin' gift card balance. Help!
There are three ways to check the balance on your gift card: by going to one of DD's many branches, calling the customer service number, and logging in to the website or app.
You will need your card number and the PIN code on the back for any option. Before we tell you this, it's worth noting that gift cards range from $10 to $50; you may even find some cards with lower or higher prices.
Go to a DD store
If you have purchased with your gift card, you can check the remaining balance at the bottom of the receipt. Otherwise, you can go to your local DD, hand your gift card to the cashier and ask them to check your balance.
Call by phone
To inquire about your balance by phone, call 1-800-447-0013. When you get the answer, ask for a customer service agent and ask them to verify your card balance. You will need to give them your card number and PIN.
Through the website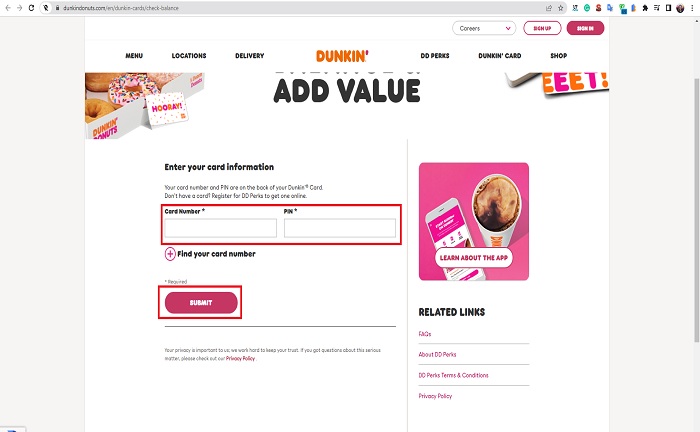 Select the send option. You will be able to see your card balance
I damaged my card and can't see the PIN; what can I do?
If you left the card inside your clothes when you washed it, or it is old, and the PIN has been erased, you could recover it by scraping the metal strip on the back of the card. If that doesn't work, call 1-800-447-0013 and explain your situation.
You must know your PIN because you cannot register your card without it. If your card is not registered, you will not be able to make claims in case of theft or loss.
In addition, the PIN is necessary for you to know your purchase history, reload your card and configure the automatic reload.
How can I add my gift card to the Dunkin' Donuts application?
You must first download the Dunkin' Donuts app on your phone or tablet
Look for the "create an account" option. Fill out all the required information and log in when you get your account
Select the "menu" button in the app's upper left corner
Look for the "manage payments" option and click on "add DD card."
Enter your PIN
You are done! You have now completed your card registration. From now on, when you enter the main menu, you will be able to add your favorite products and where you would like to pick them up.
Does my gift card come with an expiration date?
Although the cards are reloadable, they do come with an expiration date. However, consumers are protected by federal laws and regulations regarding gift cards and gift certificates.
On physical gift cards, you can see the expiration date on the back. On the other hand, on electronic gift cards, you will find the expiration date when you log in to the website.
What are the benefits of Apple products?
There is a Dunkin' app for iMessage on the Store App, which allows you to give gift cards quickly. As you'll see, it's a great benefit earned simply by using Apple.
Was this Content Helpful?