The Shell credit card is a tool designed by the British company to finance gasoline and natural gas supplies in the national territory. It is designed to be a secure, efficient and fast payment system. Through it, you can manage the control of a fleet of cars and save a large amount of money.
This credit card works inside and outside the United States. It is designed with a modern system that allows it to be used in 35 countries and to have access to more than 200 thousand service stations in the country. The card has two modalities: it can be the traditional physical plastic or its improved electronic version. The latter is effective to be used on the different operating systems of your mobile device.
How do I make a payment with my Shell credit card?
Customers receive a bill each month with a tally of all their gasoline and natural gas expenses. You have the opportunity to pay off the entire debt or choose to pay a portion of the financing, as long as it corresponds to the minimum necessary.
It is essential to mention that Shell gives its customers a total of 25 days to pay for their purchases. If the beneficiary pays the full amount or pays before the established monthly cut-off date, there will be no additional charges or interest. In this sense, avoid delaying your payments and quotes in the agreed terms to enjoy the financing and promotions.
The company offers three types of credit card payments: online, by mail and by phone. Here below, we will explain how to make each of them.
Shell credit card payments online
Electronic payment is one of the most widely used due to its speed and security. It is the preferred alternative for customers and is done in the following way:
Log in to the official Shell credit card payment page. You can also log in directly by clicking on this link.
The platform home page will open, and you will add your access data. If your card is not registered, you must click on the register your card button as shown in the following image.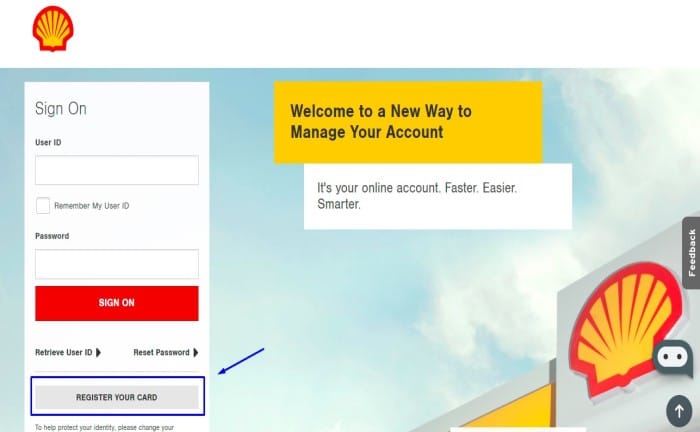 Follow the steps to create your username and password with which you will have access to your account. Once you have completed the registration step, you can log in with the access data provided.
In the payment section, you must register your bank account number, bank routing number and personal data to complete the payment. Follow all the steps set by the platform, and you will have paid in just minutes.
Shell credit card payment by mail
The traditional mail payment method is less common; however, it is still used by some customers and is a valid alternative for Shell. To pay your monthly fee, just follow these steps:
Fill in the check or money order with the data and the amount you wish to pay.
Add the account number.
The envelope should be addressed to:
Shell Card Payments
P.O. Box 9001011
Louisville, KY 40290-1011
Include stamps/fees and send by regular mail.
For express payments, you must send the document with the same information but to the following address:
Shell Card Overnight/Overnight Delivery/Express Payments
Express Payments Attn: Consumer Payment Dept.
6716 Grade Lane
Building 9, Suite 910
Louisville, KY 40213
Shell Credit card payment by phone
When the customer does not have access to the Internet, payment by phone call is the most convenient alternative. Make the monthly payment this way:
Have your bank account numbers and bank routing number ready before initiating the call. Call 800-331-3703 to reach the Shell payment operations center.
An operator will answer immediately, and you must follow the steps requested. Press number "one" to enter your credit card account information and then the select number "two" to enter your social security number.
After entering the information requested by the automated operator, follow the instructions until payment is complete.
Types of credit cards offered by Shell
Shell currently has two types of credit cards available for its customers. They are issued by Citibank and offer support to users for their daily purchases and payments. The cards you can choose from the company are:
Shell Drive for Five
Shell Platinum Select Mastercard
The first one is designed to be used at gas stations and has a discount of five cents per gallon every time you use it. The second works more like a conventional credit card. It can be used at any location that accepts Mastercard, and customers receive a 20 cent discount per gallon for qualified purchases.
Was this Content Helpful?