With more than 330 stores in 15 states across the country, Menards is a favorite home improvement and remodeling retailer. It is dedicated to selling high-quality home improvement products by department. On its website, you can find flooring, bathroom fixtures, appliances, kitchen fixtures, garden accessories, lighting, paint, plumbing, etc.
The company is responsible for offering high-quality products for the satisfaction of its customers. It also offers discounts, promotions, and more for its loyal customers. Menards has several models of credit cards so that frequent consumers can take advantage of their offers. One of its cards is called "Big Card," and here we will tell you how to activate it and pay online.
Big Menards credit card login
The Menards website allows the customer to create an account and log in. Within this platform, you can virtually access all the credit card benefits. You can pay your bills, view your statements, and see important information about your card, payment amount, and billing information.
By logging in with the Menards credit card, the customer can decide on the procedures and purchases. You can buy a product online or pay from the platform.
To carry out this process, we show you how to create an account and log in.
Registration and card activation
When you make your first online payment, you need to have created a user on the platform and have activated your card. These two tasks can be done within the forum in just minutes. If you already meet these requirements, go straight to step two and learn how to make the online payment.
Go to the Menards website and click on the "Sign In" button at the top right of the screen. Clicking on it will display an options bar, and you should choose "Create an account."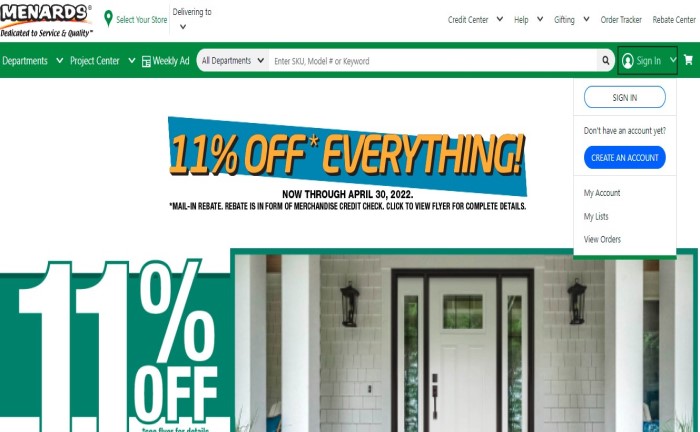 To register online, you must complete the form on your screen. The platform will request personal and financial information to create access and activate the Big Credit Card. Among the data you must provide are:
Specify whether you are an individual or a company.
First name and last name
Your email address
Access password
After completing these fields, click on "Create an account," and you can start using the online service.
How do I pay my Big Menards Credit Card online?
You can now pay your bills and manage your credit card online with your online account. As in the previous step, click on "Sign In," and when the options are displayed, this time, click on "Sign In" or "My Account."
Fill in the boxes with your email address and selected password, and you will gain access to the system.
When you are logged in, click on the "Payments" tab and select the "Pay Invoice" option. This online payment is made from a checking account and offers the opportunity to set up automatic monthly payments from the card.
Follow the steps indicated by the platform, fill in the boxes with the card data, the amount, and the current account, and finally pay the amount. It is a very simple process that takes no more than five minutes.
How do I pay my Big Menards credit card by phone?
Menards established a unique payment number for the Big credit card. It can be paid by calling 1-800-871-2800. The customer must have the card and their bank account at hand.
When dialing the number, an operator will assist the customer with instructions on how to pay the money. Follow the operator's instructions and pay your card in just minutes.
How do I pay my Big Menards credit card by mail?
Payment by postal mail is one of the least used because it is not immediate -like the other two alternatives- and requires to take more steps. However, it is also an open channel for those who wish to pay their bill by this means.
All you have to do is write a check that includes the current account number, the card information, and the amount. To ensure that the payment is completed on time and you are not incurring in late payment costs, we recommend sending the mail five days before your billing date.
The address to send the mail is as follows:
Menards Credit Card Retail Services,
Dept 7680, Carol Stream,
IL 60116-7680.
Other Menards credit cards
The Big credit card is issued by One Capital and is intended to finance large corporate purchases with a priority discount and savings scheme.
However, the retailer Menards also has two other credit cards for its most loyal customers. Each is designed to meet a particular need and to finance specific expenses.
Contractor's card
The contractor credit card is designed for those who want to build a business. It has multiple benefits, such as a 2% discount on purchases, a 1% reimbursement on gasoline and merchandise payments, and airline ticket credits.
No annual fees, automatic payment set up, and an online platform to manage the account from anywhere.
Commercial account
The Commercial Account credit card is designed to enhance your business. Enjoy an annual fee-free account, 24- an hour online account management, and many other benefits.
Was this Content Helpful?