In recent years, new credit and debit cards provided by financial institutions, such as Brex, have emerged. However, the Brex card is only for some, as different parameters of a company are evaluated before opening a new account.
A Brex corporate card is an excellent option for those small and medium-sized companies just starting in the market. After being approved by the agency, the card beneficiaries will be able to pay the card daily or monthly, according to their preferences.
What is Brex?
Brex is a company that offers financial technology services, such as business credit cards, utility payments, software to manage expenses for commercial institutions, and other banking services for commercial customers.
In short, Brex is dedicated to serving small and medium-sized businesses with little capital through the Brex card, which provides a benefits program for its customers to earn points and redeem them for exclusive bonuses.
How does Brex work?
The Brex card is a credit card that works like a charge card, meaning that you cannot carry a salary from one month to the next. However, for those institutions that have benefited more significantly than 8 times, the card will become corporate, and the balance will be paid daily. Brex operates Brex Cash, which is a cash management account and provides essential financial services such as transfers, payments, deposits, and more.
Brex considers bank balances and financial activity to determine credit amounts, unlike traditional banks, which rely on credit history. Brex also does not take into personal account guarantees and no personal credit checks, so it is a great way to get started, establish business credit, and get a business credit card.
So, Brex uses a points-based system to get points back based on how you spend that money. With this, you get different levels of points depending on your spending. The best part is that you can redeem these points for travel and statement credits, among other benefits that Brex gives to its customers.
Is Brex a credit card?
The Brex card is a credit card that can help customers generate more business credit by storing all payment history information and sharing it with the credit bureaus. That is favorable as long as the user is in good standing and has a good payment history.
Brex is different from other financial institutions because of the dynamism of its credits. The Brex credit card limit is updated according to the customer's balances on the card, i.e., it is not necessary to maintain a fixed credit limit.
The Brex credit card is paid daily or monthly, depending on the type of account and the movements made within the report. It means that Brex only withdraws the cash after completing the transaction. Still, it is added to the account statement and paid automatically according to the applicant's account type.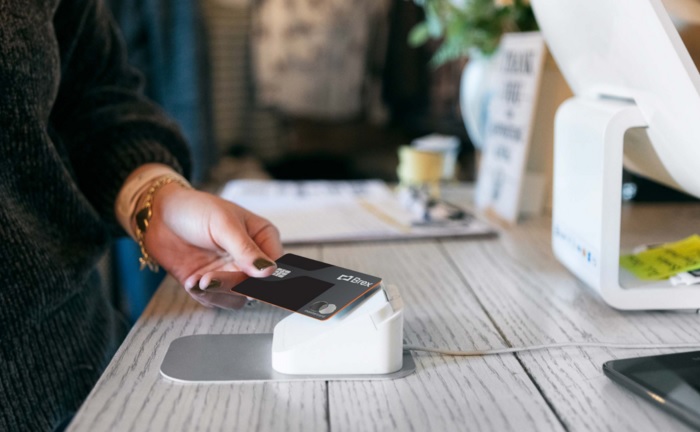 Brex Rewards Program
One of the features that help make Brex one of the most accessible cards for small and medium-sized businesses is its rewards program. This system allows the user to earn points based on category. Users who make daily payments with Brex Cash, the card's deposit account, can achieve the following rewards (points):
1 point per dollar on various purchases.
5 points per dollar spent on ads.
4 points per dollar spent on dining, restaurants, and merchants.
4 points per dollar when subscribing to software as a service (SaaS) and eligible Apple products.
5 points for every dollar spent on flights and hotel accommodations.
8 points for every dollar spent on ridesharing.
What are the advantages of the Brex credit card?
Among the advantages that Brex grants to the beneficiaries of its credit cards, there is no personal guarantee or credit check. The warranty makes the users and managers of a company responsible for any debt their company may have. In other words, if the business ends up being a total failure, the credit bureau can seize your assets. However, this does not happen with Brex since it has no personal guarantee, as this credit card is designed for small businesses with little capital.
On the other hand, Brex makes it easy to complete a credit card application, as it can be completed in a couple of minutes, unlike other credit cards and corporate credit cards.
One thing we need to include, which we mentioned earlier, is the excellent benefits program for simply signing up and acquiring a Brex credit card. It is proven that a startup can save up to thousands of dollars a year. Another benefit of Brex is that this virtual card can be used as soon as the client approves the application.
As a corporate offering its expense management software, Brex gives startups double points for using this service, which promises exceptional growth for companies just starting in the commercial world.
What are the disadvantages of Brex?
The most significant disadvantage of the Brex card is that a minimum of $50,000 in the applicant's business bank account is required to qualify, except for businesses with a steady income turnover. If the entrepreneur has these conditions, it will not be a problem to apply for a Brex credit card. However, this could be detrimental to small technology companies that will have to pay a monthly balance, leading the interested party to look for another corporate credit card option.
Another disadvantage of the Brex credit card is that it does not allow having another corporate card to earn points in the rewards program. If the individual has another card linked to his or her business bank account, he or she will not be eligible for a Brex business credit card.
Companies whose employees must travel frequently will get more incredible benefits than those who do not travel, as Brex offers the highest points for those who pay for their travel with their card.
Another point that can be a disadvantage is that a technology company may not need to use your software, either because they already have one or for another reason. That may cause the organization to turn to other services and corporate cards that do not offer this tool.
References
"Brex Credit Card Review [2022] | FinanceBuzz." FinanceBuzz, https://www.facebook.com/FinanceBuzzOfficial, 8 Oct. 2021, https://financebuzz.com/brex-for-startups-review.
Frankel, Robin Saks. "Brex Credit Card 2022 Review – Forbes Advisor." Forbes Advisor, 16 July 2022, https://www.forbes.com/advisor/credit-cards/reviews/brex-card/.
McMillin, David. "Brex Credit Card Review: Who Qualifies and What Benefits Does It Offer?" Business Insider, Insider, 3 Oct. 2022, https://www.businessinsider.com/personal-finance/brex-credit-card-review.