Cable TV has always been the most convenient way to watch the news, sports, soap operas, and all kinds of shows. However, in recent times, streaming platforms have been gaining the upper hand over traditional TV.
Among the best-known streaming applications, we can name large multinational platforms such as Netflix, Paramount+, Disney+, or Amazon Prime Video. On the other hand, YouTube TV, provided by Google, is growing exponentially thanks to the implementation of different TV channels available with a subscription.
What is YouTube TV?
YouTube is a video and multimedia content streaming company. What started as a platform that allowed celebrities to upload their video clips became a source of income for content creators. YouTube's growth in the past decade has been remarkable, so Google decided to take advantage of the service's reach.
Thus, in 2017, they launched YouTube TV, a platform that allows you to watch different videos such as live TV, series, shows, sports, and more. You can access more than 85 of the world's most famous TV channels in English and Spanish, such as PBS, ESPN, or FOX Network.
Initially, this service charged a $35 monthly fee, but after the economic crisis following the pandemic, prices rose significantly (currently, a subscription to YouTube TV costs $64.99 per month). This is why many users decided to cancel this service. You could, theoretically, take advantage of the free trial, but you have to be very careful with this because if you forget to cancel the subscription to YouTube TV, you will be billed for the next month.
What is the YouTube TV free trial like?
As its name implies, the YouTube TV free trial is not paid, so after the time period stated in the company's terms and conditions ends, the service will no longer be provided free of charge, and the transmission will be cut off. For this not to happen, the monthly fee for the streaming service must be paid.
The YouTube TV free trial duration is either 7 or 14 days, depending on the subscriber's preference. Keep in mind that the membership must be canceled before the trial ends and not on the same day since you run the risk of being charged for an accidental subscription.
Among the benefits that YouTube TV grants to those that choose the free trial are access to different DVR functions, which allow you to record the transmission, something that is especially useful when you cannot watch a show, game, or movie on its airing time.
In addition, by accessing the YouTube TV free trial (or membership), there is no need to sign any contract, nor will you have to install a set-top box or hang cables all over the room, as you only need your TV, computer, smartphone or mobile device with the downloaded application. You can stream live or on-demand content directly.
When to cancel the free trial?
The ideal time to cancel the YouTube TV free trial is as close to the expiration date as possible. For example, if it expires on 10/20, the perfect time to cancel is on 10/19, but not on the same day the trial ends.
It would help to remember how long the free trial lasts and pay attention to the expiration date, as you may miss it and be surprised when you receive a bill for the amount to be paid for the "free trial", which ceased to be accessible as soon as it completed its cycle.
It is worth mentioning that the free trial is valid for new subscribers who have not tried this option yet, so a person who has already used the free trial before will not be able to reaccess it. Log in to your YouTube TV account to determine when the monthly fee will be charged.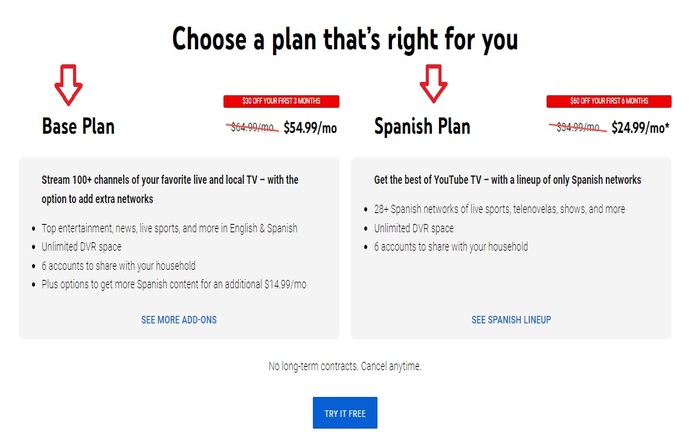 What will I no longer have access to after canceling YouTube TV?
If you wish to cancel your YouTube TV membership, you can do so at any time and pause this service. If you are a member and cancel it, you will continue to access the benefits granted by the company until the billing cycle is completed.
On the other hand, if you only use the free trial, you will lose access to all YouTube TV services as soon as you cancel the subscription. This is why, as we recommended above, it is best to cancel the YouTube TV free trial one day before the end of the cycle at most.
When you cancel YouTube TV:
You will no longer be able to access YouTube TV at the end of the paid month.
You will not be able to make use of new add-on networks.
Recorded programs will be deleted after 21 days.
If you reactivate your membership in the future, you may not be able to access recorded programs due to eligibility for fees.
How to cancel YouTube TV membership online
To cancel a YouTube TV membership from the web, you must follow these steps:
Go to the official YouTube TV website by clicking here. tv.youtube.com.
Click on the avatar button at the top right of the screen.
Next, go to "Settings" below, where your email address appears.
A menu will pop up. Click "Membership".
Then click on "Manage" > "Cancel".
It would help to specify why you are canceling your YouTube TV subscription.
Verify all the information and confirm that you want to unsubscribe by clicking "Yes, cancel".
How to cancel YouTube TV on an Android device
You will need to go to the YouTube TV app or website for Android devices to start the cancellation process.
Open the YouTube TV app or go to the official website. tv.youtube.com
Tap on your avatar.
Go to "Settings"> "Membership".
Then, just like from the web, you will need to select "Manage"> "Cancel".
Select your reason for cancellation.
If you want to, you can choose an offer more suitable to your pocket. Otherwise, tap "Yes, cancel".
If you want to pause your membership, click "Pause", then click on the "Manage" section, and choose the time during which you want to pause the membership.
How to cancel a YouTube TV membership from iPhone
As you may know, Google and Apple are two competing companies, but at the same time, Google allows iOS devices to be able to download YouTube TV. However, you cannot cancel the subscription from the app, so you will have to go through the process from the default browser of your mobile device or computer, following the steps we mentioned above.
References
"How To Cancel YouTube TV Free Trial (Updated 2022) – TV FAQ." TV FAQ, 21 Aug. 2022, https://tvfaq.in/how-to-cancel-youtube-tv-free-trial/.
Idayi, Kayla. "YouTube TV Free Trial | How to Get 14-Day Free Trial – Cloudzat." Com, 19 Oct. 2022, https://www.cloudzat.com/youtube-free-trial/.
"Sign up for YouTube TV – Android – YouTube TV Help." Google Help, https://support.google.com/youtubetv/answer/7129816?hl=en&ref_topic=7071745#zippy=%2Cfree-trial%2Ctrial.