Companies are constantly growing and have to stay up to date when it comes to providing better payment conditions. Fashion Nova has become one of the many multinational brands to implement new remote payment methods, as a majority of its customers prefer online shopping.
For this reason, Fashion Nova has implemented the method that's most commonly used by Apple iOS users, among many other forms of electronic payment: Apple Pay, the application that works through Apple Wallet.

What is Fashion Nova?
Fashion Nova was created in the United States as a fashion retail company that operates online, with only five physical locations, but reaching several countries around the world.
With the growing popularity of social media platforms such as Instagram, the company has expanded its user base significantly as consumers choose this method to buy their clothes, shoes, and fashion accessories. Instagram has become an excellent way for Fashion Nova to show Internet users the variety of products that they offer in their online store.
This gives the company an opportunity to gain popularity through different marketing strategies like hiring celebrities to promote the brand. One of the most emblematic examples was when they recently hired Cardi B, who modeled for the company and even released her own collection of ready-to-wear clothes.
What can I buy at Fashion Nova?
Thanks to the company's remarkable growth, Fashion Nova now offers clothing for women and men of all sizes and even children. Among the clothes you can buy at the store are dresses, jeans, matching sets, shoes, tops, bottoms, jackets & sweaters, jumpsuits, lingerie, swimwear, loungewear, and accessories.

What forms of payment does Fashion Nova accept?
Fashion Nova accepts many payment methods in its online and physical stores. From credit and debit cards to virtual wallet payments:
Visa.
Mastercard.
Discover.
American Express.
Zip.
Afterpay.
Fashion Nova gift cards.
PayPal.
Amazon Pay.
Apple Pay.
Google Pay.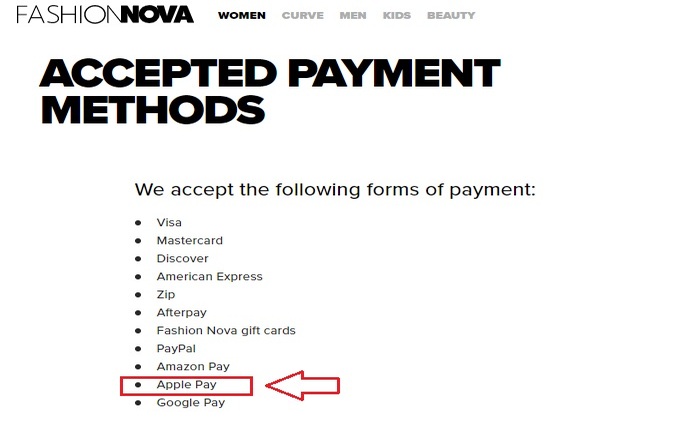 What is Apple Pay?
One of the most frequently asked questions among iOS users is whether they can pay Fashion Nova with Apple Pay. This payment method has been around since 2014 and has expanded globally so that those who have an Apple device can pay for their purchases with just a couple of clicks.
Apple Pay is characterized by its security, accessibility, and speed to pay at different locations, either in person or online. Although this method is not implemented in many of the physical branches, it has become a key method for Apple users to pay for their products through the Internet.
This transaction is done through NFC, an identifier that allows them to pay using their smartphones, iPad, or Apple Watch without having to make physical contact with cash. They simply log in to their mobile device and upload their bank details and shipping and billing information.
Apple Pay has gained traction with the arrival of the pandemic, as many businesses implemented this digital payment method that is performed with Touch ID, Face ID, or fingerprint reader verification, to verify the identity of the buyer, making it a reliable platform.
Does Fashion Nova take Apple Pay?
If you're at a store and wish to pay using your virtual wallet, then, fortunately, Fashion Nova accepts Apple Pay as an online payment method. This procedure is quick and easy, so you don't need to be an expert to complete the payment.
If shopping in person, all you need to do is log into the Apple Pay app and double-click on the button on the right side of the iPhone. Then, you will need to add the information corresponding to the payment, to avoid possible confusion and mistakes.
Next, position your device in front of the contactless reader, select the payment method (Apple Pay) and check the following information:
Credit or debit card, or Apple Wallet, in this case.
Billing and shipping address for the purchased product.
Customer contact information.
Finally, bring your iPhone or Apple Watch close to the recognition reader and accept the payment via Face ID or Touch ID and password.
How to pay Fashion Nova with Apple Pay online?
Once you enter the Fashion Nova website to purchase any product, you just have to add everything you're going to buy into your cart. Then, you must go to the cart and click on the "Checkout" option.
To pay for Fashion Nova products using Apple Pay, you must open the app and follow a few simple steps:
At checkout, click on the "Apple Pay" button to select the payment option.
Click on the "Next" or "Expand menu" button.
Enter all requested shipping, billing, and contact information.
Click "Confirm Payment".
That's it! Just wait for your products to arrive at your home.
Does Fashion Nova offer refunds?
Unfortunately, Fashion Nova does not offer refunds. However, you will be offered a credit or a discount on your next purchase in case there has been a problem with the product you purchased.
If you want your money back, you can go to your bank or credit card company to file a claim and request a refund, which can take up to two or more weeks, so be sure to choose your items wisely to avoid disappointment.
References:
Was this Content Helpful?