American Express, being such a well-known company, offers many gift cards that people use to give gifts on special occasions. Still, several people do not really see the point in getting or receiving a Gift Card, as it is not very versatile money.
Sometimes it can be a headache to exchange these cards for tangible cash, but all it takes is a little creativity, as there are several ways to go about this process.
Check your balance before making the exchange!
To know the amount of money on your AmEx Gift Card, you must go to the official American Express website and head to the Gift Card section or go to the balance section, where you will be asked for your information directly.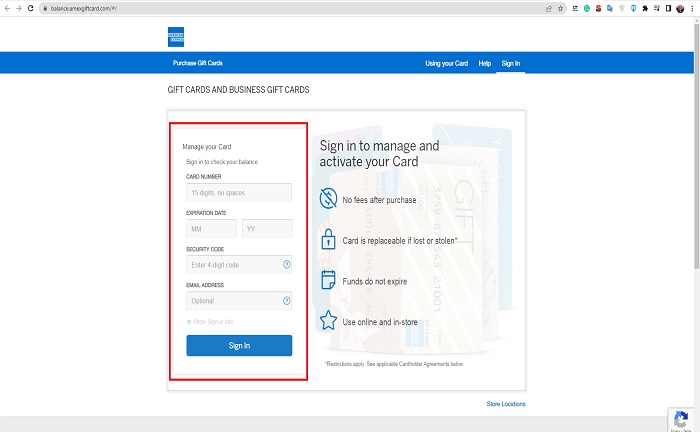 You will be asked for the information on the card: card number, security code, expiration date, and, optionally, your email address. Once you know the balance of your card, you can proceed to convert it into cash.
Discover your options for cashing in your AmEx Gift Card
American Express gift cards can be spent at retail and online stores where your payment methods accept AmEx, but you may prefer to spend the money in that card on something more practical for your day-to-day life.
Stop keeping all the cards you've been given as gifts in the back of your room and put them to use by cashing them in and spending that money on other priorities. Here are the different ways to redeem your gift card.
Link your Gift Card to a digital wallet
Yes, this will be your first and easiest option. If you are a customer of platforms like Apple Pay or Google Pay, adding the AmEx gift card to your wallet will be a piece of cake. You can use the card for regular billings at your preferred stores.
You can sell your Gift Card.
There are platforms for exchanging or selling Gift Cards, such as CardCash, GiftCardPlace, QuickcashMI, BuyBackWorld, GiftCardsBuyer, and a bunch more.
You need to know that, when selling the card, the buyer will keep a percentage of the money. For example, if the balance of your gift card is $800, you could receive $750 when you sell it.
It would be difficult, if not impossible, to sell your card for the same balance it contains. Keep in mind that when you sell it, you will probably be asked to provide proof of the balance on the card.
Buying money orders with your Gift Card
It can be a cumbersome process to buy money orders with a gift card; some places require the card to have a pin. In addition, this can add extra fees for the purchase. But it is a viable way to get money. Buy the money order and then redeem it for cash.
Resell with Gift Card purchases
Since American Express gift cards are accepted at an infinite variety of online stores, you can purchase products and resell them for the same price to get the cash.
It may sound absurd to spend money on a gift and then sell it, but it is an effective method for many people. You can create an account on platforms like e-bay or Facebook Marketplace and sell what you purchased using the gift card.
Give your gift card as a gift!
It's likely that a friend or loved one's birthday is coming up. Instead of investing money from your pocket in a gift for the recipient, you can give them a gift card with the same amount of money you were planning to spend.
This way, they can use the card to buy something of real interest to them without you having to go through the tortuous process of choosing the perfect gift.