The Veteran Affairs Offices are responsible for the administration of charitable programs for veterans, their families, and survivors. This office was established in 1930 and consolidates and coordinates government activities affecting veterans.
The Department of Veterans Affairs consists of the Veterans Bureau, the Bureau of Pensions of the Interior Department, and the National Home for Disabled Volunteer Soldiers. Benefits offered by this government agency may include:
Pension
Education
Disability compensation
Home loans
Life insurance
Vocational rehabilitation
Survivor support
Medical Care
Burial benefits
How to find a Veteran Affairs Office near me?
To find a Veteran Affairs Office, you will just have to follow a few simple steps:
Visit the official VA website.
At the top of the page, you will have to look for "Find a VA Location" and click there.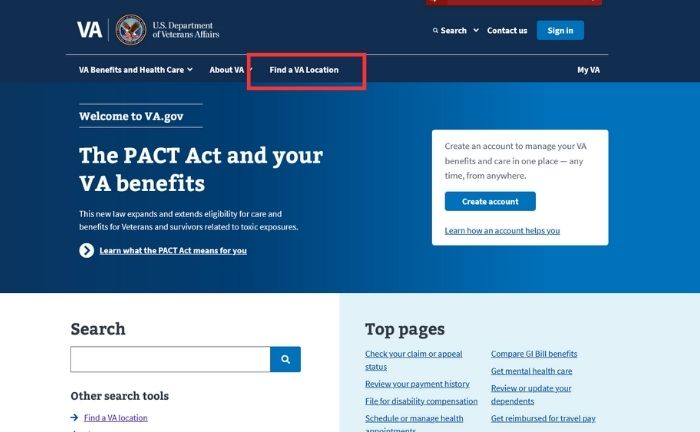 A page will appear where we will have to enter our location, select the Facility Type and the services we need. Once everything is ready we click on "Search".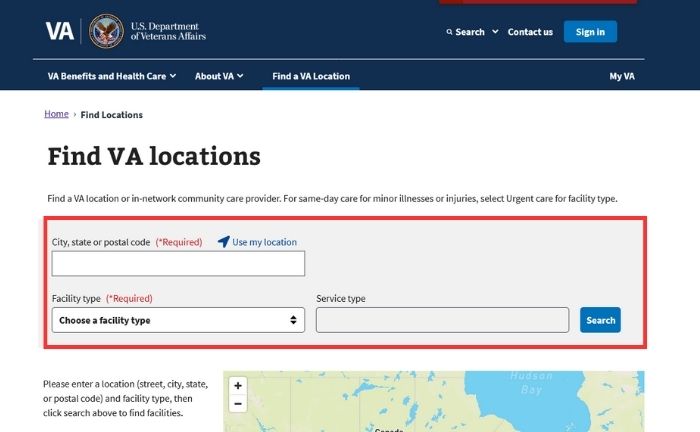 On the map, you will be shown the nearest offices depending on the service you need from the Veteran Affairs offices.
When you do this, you will be able to get directions to the office directly from the Google Maps application. You will also be able to access the office phone number and address, so you can get in touch in case of an emergency.
Who is eligible for Veteran Affairs benefits and services?
Today, there are 25 million veterans in the United States who are still alive. Three out of four of them served in a war or period of hostility.
According to government estimates, about 70 million people may be eligible for VA benefits and services. This is because they are veterans, their family members, or survivors of veterans.
What benefits can be obtained from VA offices?
It should be noted that there are different benefits for veterans offered by the Veteran Affairs office. Among these benefits are:
VA Health Care
This health service covers primary medical care, as well as appointments with specialists such as cardiologists, gynecologists, and mental health providers. Home health or geriatric services can also be accessed, and medical equipment, prosthetics, and prescriptions can be obtained.
To apply for this service, you must have served for at least 24 continuous months. In case of disability caused by service, this requirement does not apply. It also does not apply to those who served before September 7, 1980, for whom it will apply without restriction.
VA Disability benefits
In the event that any type of disability has been generated by the service, you will be entitled to compensation. Tax-free monthly payments may be made, provided that the condition was caused while the service was rendered.
It is important that the injury occurred while on active duty, and that it affects your mind or body. In some cases, presumptive conditions apply in which the condition is presumed to have arisen out of the service you were performing.
GI Bill Benefits
This is a grant to help pay for college, graduate school, and training programs. It will help the veteran and his or her family members get money to cover some of the costs of school. If you apply for this benefit, your benefit statement will show how much of your benefits you have used and how much you have available for use.
Pension benefits
The veterans' program will provide monthly payments to veterans at a certain age or when they are disabled. Income may be available with some limits. This benefit applies only to those who have not received a dishonorable discharge, and your estate or household income does not exceed the limits set by Congress.
These benefits are available to those who have served for at least 24 months during the entire period in which they were active. It is applicable for people over 65 years of age, with disabilities or who require special care by a nurse at home.
Home loans
The Veterans Affairs office has programs that will help you buy, build or improve your home. They also allow you to refinance your home loan including a VA direct loan or a VA-backed home loan.
Life insurance
There are different programs for veterans, service members, and family members. Insurance coverage can be accessed, which will allow you to recover from a traumatic injury during service.
If you have a service-connected disability, you may be covered under VALife. For those who are still in service and will be leaving soon, you will have to opt for new insurance at least 120 days before retiring from the military. This is to avoid a gap in coverage.
Family member benefits
If you are a spouse or dependent child of a veteran or service member, you may qualify for certain benefits. These include health care, life insurance, or money to pay for school or training. On the other hand, if you are a survivor of a veteran, you may have benefits to help with burial costs and survivor compensation.
If you find yourself caring for a veteran, you are also eligible for support to help better care for the veteran.
How many VA health locations are there?
For medical care, there is the Veterans Health Administration, which has a very broad system of coverage. It has a total of 1,298 healthcare facilities, where patients of different degrees of complexity are treated.
To make an appointment if assistance is needed, it can be done online at the official VA website, or you can also call 1-877-470-5947 to speak to a representative. In case you have questions about your medical information, you will need to contact your VA care team, directly at the clinic where you received care.
Online scheduling should not be used in case of emergency, in these cases it is better to call or go directly to one of the medical facilities.
What is the largest VA in the US?
The largest VA health center is the VA North Florida/South Georgia Veterans Health System. It is the largest in the country, with a total of two medical centers and 45 inpatient beds.
In addition, it has three large multi-specialty clinics, and nine community clinics spread over 40,000 square miles. This makes it the largest medical center in the country and one of the best. However, if you need a center near you, it is best to use the map to locate it so you can go to the nearest one.