When it is time to look for a new job or a different career path, one of the alternatives we consider the most is customer service positions.
Many jobs are available in the area, even at the finance consumer services level. Usually, this is because it is a job with many facilities and possibilities to apply for. If you are comfortable communicating with people, working in this field may be for you.
Overview of jobs in consumer services
According to a 2012 study, for more than 20 years, customer satisfaction has been highly dependent on the correct interaction between the employee and the consumer. Also, this directly influences loyalty towards the company, service, business, etc.
Therefore, only some people are qualified to work in the customer service area. The employee's attitude and other relevant issues, such as patience and a good predisposition towards the environment, are essential.
For this reason, research demonstrates the experience between both parties and how necessary it is to achieve a connection that will help the company to continue attracting customers. In this sense, although many jobs are available in consumer services, it is clear that they are not for everyone.
Some popular jobs at 14 include pet-sitting, dog-walking, or working at a family-owned business in your town.
Consumer services jobs in high demand
The field of consumer services is vast. There are jobs in gastronomy, fashion, and any other business. Nowadays, companies pay a lot of attention to the attention received by the consumer because, to a great extent, it depends on this that tomorrow they will come back and be recommended among their friends and family.
Remember that word-of-mouth advertising is considered one of the most important because it builds trust, something that an advertisement or email marketing campaign cannot generate.
The most outstanding jobs that are currently available in consumer services are the following:
Customer Service Advisor
Any company that provides services or markets products has a customer service area. From there, they handle complaints, inquiries, and any other type of request required by the customer. It is the most common job in consumer services.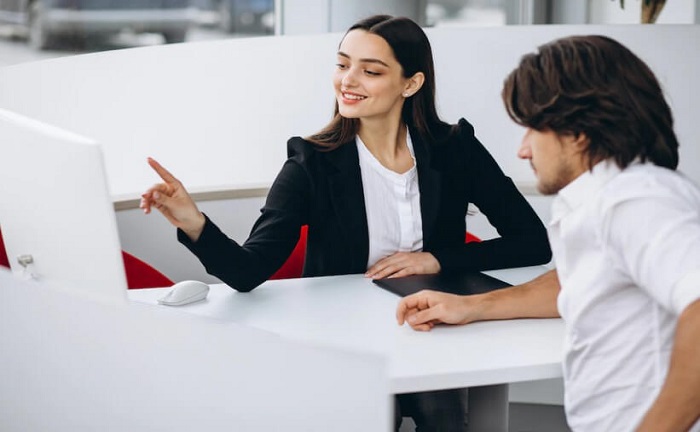 It is a job that requires a good predisposition and knowledge of the product or service, but it also requires the employee to have communication tools.
The consumer is likely to be upset, and in this situation, the advisor or customer service representative must be prepared to find a solution. Currently, it is a position that can be telephone, online, and face-to-face.
Please note: Typically, the hours are usually at night, or you must work weekends. If you are interested in a customer service job, ask if the hours are fixed or variable.
Marketing Assistant or Marketing Manager
This is another of the many jobs available in other consumer services. With the modernization of the workplace, more and more positions are opening up in this field.
Companies are looking for experts in marketing strategies so that they can come up with a proposal to promote a new product or campaign. After the pandemic, it is a job that can be done remotely.
It would be best if you also had the communication tools to deliver the message to the consumer. The position often requires additional skills in design, copywriting, etc.
Salesperson
One of the jobs in the customer service area is that of a salesperson. According to Statista, by May 2020, it was estimated about 1.57 million sales representatives in the United States. Given this data, it is likely that the numbers will have scaled by 2023.
The salesperson's position is to complete the idea that comes from the marketing area to close the sale. Therefore, it is vital to know to make an undecided consumer choose to buy the product or service provided.
In addition, depending on the type of business, they can make the consumer stay with the company for a long time or the opposite.
Other jobs in consumer services
Depending on your industry, knowledge, and skills, you can apply for one of the following jobs in consumer services:
Event coordinator
Store Manager
Claims Handler
Consumer Operations Associate
Credit counseling
Service Specialist
*Each job requires the employee to interact with consumers and provide them with information about the company's services or products.
How many jobs are available in finance consumer services?
The area of finance is growing more and more, mainly because of virtual wallets and different start-ups born annually. As these products are digital and users manage them through apps or websites, jobs are available in finance consumer services.
For example, suppose you have experience in the field. In that case, you can apply to be an advisor in payment platforms such as Payoneer, PayPal, and Binance (especially for the crypto market), among others.
Given the growth of these applications, these are the positions available in the U.S. finance sector:
Credit and score analysis assistant
Personal financial advisor
Banking advisor
Financial product advisor
Remote customer service expert
Cyber security expert
Market Advisor
Budget Analysts
Analysts in Management
Insurance Consultant
Accountant
Financial Software Developer
Risk Management Services
Loan Officer
Stockbroker
FAQS
How much can I earn if I work in consumer service?
According to the Consumer Service Associate, the average salary of a customer service representative earns between $31,550 and $45,618 annually. Of course, the compensation will vary depending on various aspects such as education, experience, city, and company.
In this sense, a customer service representative will earn a different amount than a marketing analyst. This position can make between $49,211 and $65,273 per year, which is much more lucrative.
How can I start gaining experience as a customer service representative?
One way is to get a job as a trainee. For example, if you recently graduated with a degree in social communications, you will have a background in marketing and advertising, so you can start gaining experience.
The most common way is to get a job as a salesperson, which will mold you towards a career in the field, allowing you to take courses so that your resume has more presence. Some websites even offer free classes on digital marketing tools. This way, you will have more opportunities in the future.
Where can I find a job available in consumer service in the U.S.?
The most well-known and internationally valid websites to find a job in customer service are:
Another alternative is to check with local businesses, your local chamber of commerce, job search agencies, or retail companies such as Walmart, Best Buy, Sam's Club, etc. Amazon and eBay are also other alternatives to finding a job in the consumer service area in the U.S.
References
Was this Content Helpful?