Many gurus have made virtual courses to explain IT tactics for a large number of fees. However, what if we tell you that you can opt for a course designed by Google and provided by a great platform – Coursera! Didn't it put a big grin on your face simply knowing about it?
The program is called Google IT Support Professional Certificate for knowing about the IT industry with benevolent content for newbies. This course prepares you for the CompTIA A+ tests, the industry-standard course for IT; also, you will obtain a dual accreditation when you finish both.
Through a blend of quizzes, video lectures, and hands-on labs, you will get acquainted with customer service, troubleshooting, operating systems, networking, security, and system administration. Foundational IT capabilities need an entry-level job.
You will hear from Googlers whose backdrop in IT support, filled in as launchpads for their professions. By committing 5 hours every week, you can finish the course within 3 to 6 months.
In this article, you will find out about the certificate course and what fundamentals they teach you, as well as is it worth your time and effort opting for this course and pay for getting a certificate, and much more.
About the Google IT Support course
In this certificate program, you'll prepare for an entry-level position in IT support via a technical curriculum created by Google. 80% of Google IT Support Professional Certificate students in the US report a professional effect within six months, like getting a raise, getting a new job, or starting a venture.
The course is essential for Grow with Google, a Google initiative to create economic opportunities for everyone.
When completing the course, students qualified to work in the US can straightforwardly share their details with Google, and employers including Infosys, Hulu, Walmart, Intel, etc.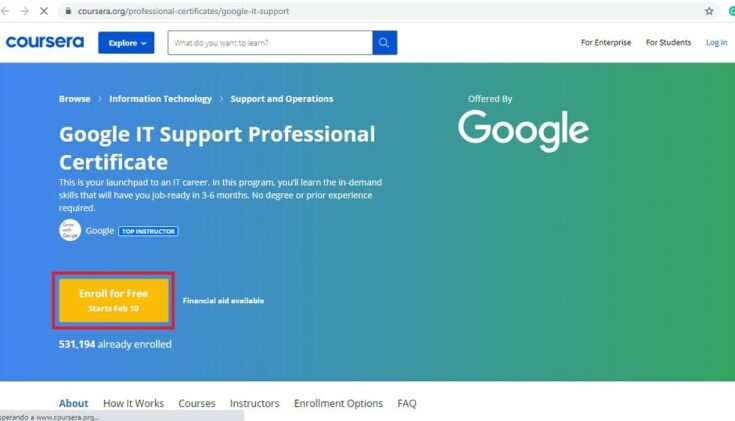 What will you gain from the course?
You will gain the abilities needed to progress in an entry-level IT job.

Carry out every day IT support tasks like wireless networking, computer assembly, customer service, and installing programs.

Learn how to offer 360-degree customer support, right from determining issues to debugging and troubleshooting.

Learn to utilize systems like Domain Name Systems, Linux, Binary Code, and Command-Line Interface.
Inclusion of 5-course under this certification
Following are the courses included:
The Bytes and Bits of Computer Networking.

Technical Support Essentials.

You and Operating Systems: Becoming a Robust User.

IT Safety: Defence against the Virtual Dark Arts.

IT Infrastructure and System Administration Services.
The fee of the course
The course fee is decreased from $49 per month (Rs. 3,575/- every month) to $15 per month.
➔ READ MORE: The Microsoft Internship Program.
Is this certificate good for your profession?
Let's dive into this famous Google IT certification on Coursera to discover if you can join this to begin your profession in IT support or not.
This professional course is provided by a team called Grow with Google, which is viewed as an initiative started in 2017 by association with numerous companies and other organizations with approx. 7000 partners to give digital courses worldwide.
Grow With Google has developed about 14 credentials on Coursera and their courses get above 600k registration in programming and security python as well as IT; this initiative has turned into perhaps the most successful worldwide for making digital learning accessible for everyone.
This course certification involves five small courses intended to set you up for an entry-level job in the IT sector and make you understand a lot of stuff, such as operating systems including Windows and Linux and security and networking and file systems, and considerably more.
A research carried out by indeed.com states that out of 182 people who have opted to finish this certificate, 40% of them find a new job after finishing this course and 93% suggested a family member or friend taking this certificate if they want to begin a new profession in IT industry.
This certificate involves numerous labs to test and train your abilities; this makes the entire course worth opting for and great to invest time learning the IT fundamentals through pragmatic lessons, particularly if you want to have higher certificate courses, for example, CompTIA A+.
Now everything is nearly turning to be online, like bringing artificial intelligence into company services or utilizing voice bots to answer people's queries, knowing how the IT industry on the planet is a great choice. We suggest picking this certificate for a profession for educational or IT purposes.
Coincidentally, if you want to go for multiple Coursera specializations or certificates, then purchase a Coursera Plus subscription; this offers you limitless access to their most famous specialization, certificates, guided projects, and professional certificate.
It cost about $399 per year; however, it's worth your time and money as you get limitless credentials.