The bartender, that talented and creative master of mixology, is an expert in preparing exquisite cocktails, a skilled communicator, and an astute reader of customers' needs and preferences. Their ability to customize each drink according to individual tastes and suggest innovative combinations based on desired flavors is a true art.
Bartending isn't a career many people go into for life. However, it can be. Bartending can be highly profitable. Unfortunately, the average bartender isn't aware of how much money they can make and treat it as a stepping stone to something they perceive as better.
How Much Do Bartenders Earn?
In terms of salary, entry-level bartending jobs are not very profitable. The best way to earn money as a bartender is to start your bar. You can make more from creating your own bar than you can work for somebody else's. You also get more say over how to dress as a bartender when you have your own bar.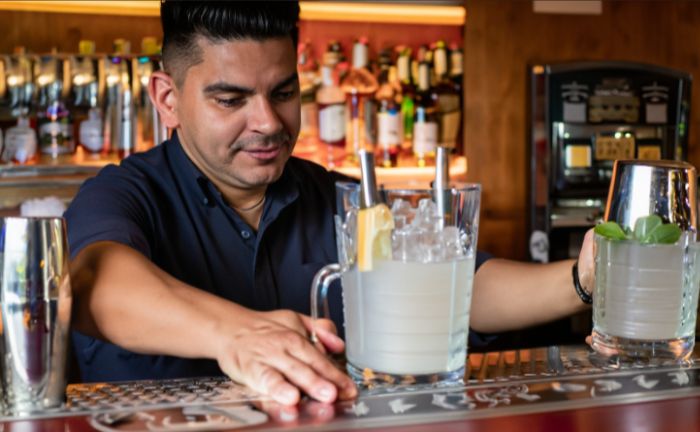 Bear in mind that you'll probably just make minimum wage as an entry-level bartender. Nevertheless, the longer you work for a company, the more your salary will increase. You can earn a lot if you stay with one bar for a long time and rise through the ranks.
As reported by the famous job search website ZipRecruiter, the average salary for a bartender in 2023 is $26,598 per year, giving an average of $2,216 per month and $13 per hour. However, this constantly varies due to the tips each bartender earns, the type of work the bartender does, and the areas they work in.
For example, a bartender in Sunnyvale, CA, can earn approximately $32,585 annually, roughly $2,715 monthly, and $15.67 per hour. On the other hand, in Georgia, the average annual wage is $18,761, which means $1,563 per month and $9.02 per hour of work.
However, according to BLS, bartending jobs could grow by as much as 11% in a decade (from 2020 to 2030), a much higher percentage than any other job.
The Benefits of Bartending
The benefits of bartending vary from bar to bar. In some bars, bartenders are given as many free drinks as they want. In others, they are given lots of time off, completely paid for.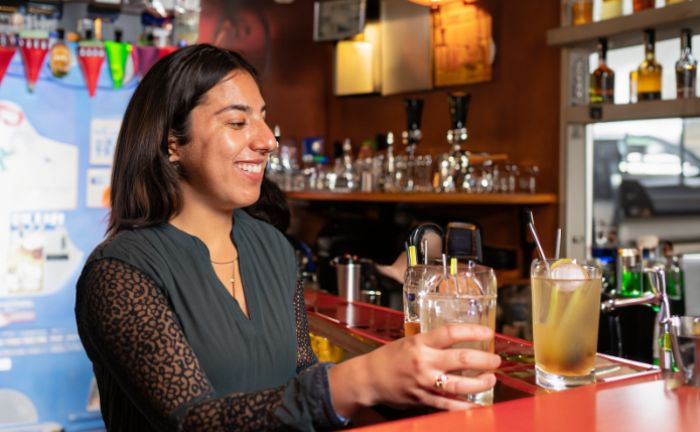 If you are planning on becoming a bartender, then you need to speak to the owner of the bar you want to go and work for and ask them what the benefits of working for them are. This is the same in any company. You need to find out the benefits, so you know what you will get.
Yet, we can name some general benefits of bartending, such as social interaction and flexible hours. Another great advantage of working in a bar is expressing your creativity.
Also, you can develop technical skills in drinks for customers, as this profession immerses you in a world of mixology, hospitality, and the possibility of providing a unique experience to customers.
Bartender Work-life Balance
Work-life balance is a significant challenge for bartenders. This profession, full of social interactions and flexible schedules, can affect the personal quality of life. Long shifts and late-night hours can make planning activities outside of work. difficult
However, bartenders can adopt strategies to achieve a healthy balance. Setting clear boundaries, practising self-care, and making the most of time off are essential.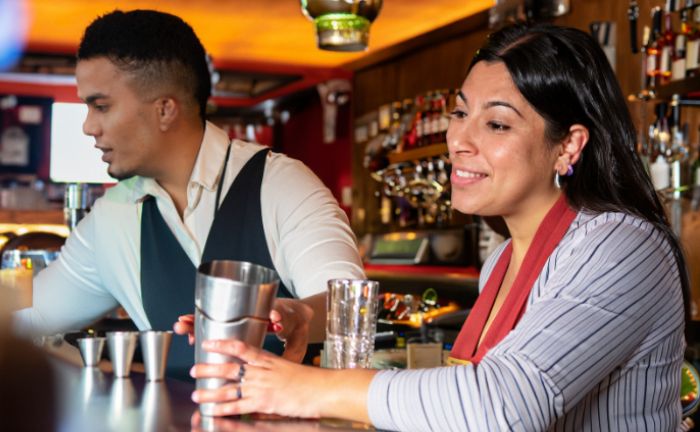 On the contrary, some bartenders have an excellent work-life balance. More often than not, they only work a few days per week. If bartenders have to work more, they are usually given more benefits, like early finishing hours and free drinks.
If you like to party, evolving a bartender is definitely something to consider. Becoming one when you want to party is good because you get the chance to meet and talk to new people almost every night. After work, you can party in the bar or club, too.
Advantages of Bartending
Bartending is not only about mixing and serving drinks; it's an exciting profession that offers many benefits. From the chance to interact with fascinating people to unbridled creativity and flexible hours, bartending immerses you in a world full of rewarding opportunities.
One of the main benefits of bartending is that it allows you to gain the knowledge and expertise needed to start a bar of your own. Creating your bar can be very profitable. If you are interested in this, bartending is a prerequisite to success.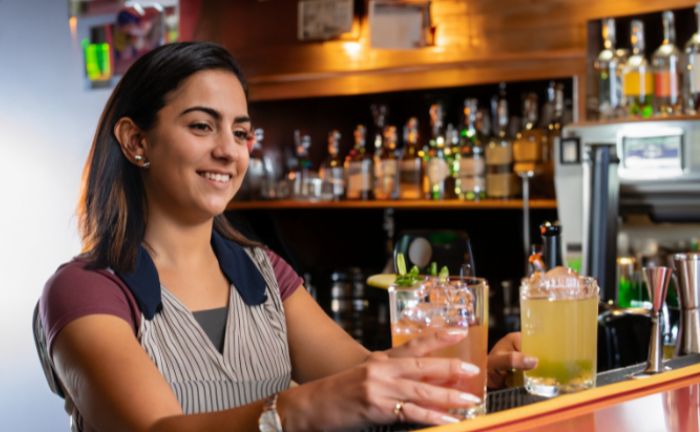 If you do not know what running a bar is like, you'll most surely fail when starting one of your own. If you become a bartender, you learn everything you can about the job before going independent.
Not only can bartending provide valuable experience for those interested in beginning their bar or restaurant in the future, but it can also be a fulfilling job for those who enjoy meeting new people.
To ensure that you're well-informed before applying for a bartending job, take the time to read up on the necessary skills, certifications, and industry trends. With the proper preparation and dedication, bartending can be a rewarding and lucrative career choice.
References