A very common point of interest when we are searching for places to shop is to think about the discounts that are available to customers. Even more so when we are veterans and want to take advantage of what we have earned with our work for the nation.
That is why certain companies present plans for veterans that include discount packages on purchases. Becoming an ally of a group of potential customers who will always try to take advantage of this opportunity they have earned. Walmart is not one of these companies, i.e., they do not currently offer veteran discount packages.
Why doesn't Walmart offer a veteran discount?
Military retirees have great benefits all over the country considering the respect that exists for them. So the fact that a company the size of Walmart doesn't present some veteran-focused payment plans is surprising. Something that sounds improper to say the least, especially considering they have a sale focused on veterans day.
While there is no clear reason as to why Walmart doesn't have a veteran discount plan, it doesn't mean they have a grudge against them. In fact, since 2013 Walmart has had an employment program aimed directly at hiring veterans. Offering since then more than 300,000 jobs to veterans.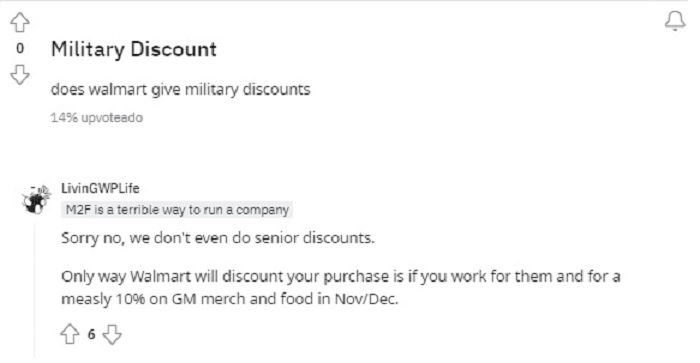 It must be clarified that this is not a discount like those usually given in other chain stores. It directly helps a community that has given everything to defend the patriotic colors and deserves certain benefits. Similarly, it is striking that there are no discounts for veterans at Walmart.
Promotions and discounts for everyone
Although there are no discounts specifically for veterans, Walmart presents daily discounts and promotions for everyone. Of course, veterans will also be able to access them just like any other customer. This gives us the idea that Walmart does not seek to differentiate one specific public over another.
In the same way, the veteran hiring package that Walmart has had since 2013 gives them the possibility of obtaining benefits. As does the Walmart worker discount card which offers a 10% discount on all purchases. This is part of the advantages that Walmart gives to its work team.
Is Walmart doing anything for Veterans Day?
Following on from this, it is worth clarifying the fact that Walmart also does not offer veteran-specific discounts during Veterans Day. While this is one of those days a year when more sales are made given the discounts present. None of these discounts are focused purely on veterans but are available to the public.
We are again clarifying that the company is not looking to create any differentiation between military veterans and the public. Something that sounds surprising if we analyze the amount of help that Walmart grants thanks to its foundations to U.S. veterans.
Foundations that present aid, employment, and education plans for both veterans and their families in need. Creating a difference without having to rely purely on giving discounts to get them to buy. This is a truly admirable strategy that sets Walmart apart from other companies in the market.
What other stores offer discounts for veterans?
There are many stores that offer discounts for veterans in an effort to give back to them a little of what they have given to the country. To complete this, the veteran in most cases will need to go to the checkout once their purchase is ready and show their ID.
While each store has its policy on dealing with promotions and discounts, there is usually a lot of overlap when it comes to veteran discounts. Making available the possibility of subtracting a percentage cup from the purchase.
Some of the options that do offer veteran discounts are:
Amazon
Target
Dollar general
Macy's
CVS
Home Depot
Casper
Best Buy
Apple
T-Mobile
Who qualifies for veteran discounts?
The veteran community itself is very large, so it is normal to have questions about whether you qualify for a veteran discount. We must first clarify that veterans are referred to as individuals who have completed their military service. Being thus released from these obligations, separated from their activities in an honorable manner.
That is, to be considered a veteran at the time of seeking a discount you must present your credentials at the cashier. On certain occasions, depending on the store, you will have to directly request these discounts for them to become effective. Depending on the store, veteran discounts range from 10% to 30%.
Likewise, certain stores have specific discount plans that are carried out either by requesting a veteran card or as a frequent customer. Therefore, it is advisable to verify in advance the discount policy of the store. Not all stores have the same policy and may differ on certain key discount points.
Check this out and qualify for the discount at Walmart
Show your veteran card to qualify for discounts from 10% to 30%.
Show that you are an immediate family member of a veteran to take advantage of the discounts.
Take advantage of Veterans Day to get better discounts.
Discounts for family members
Another point to consider is that immediate family members of veterans will also be able to take advantage of these benefits. As long as they present the validity of the veteran's documents and their relationship to the veteran of course. So if your father, mother, brother, or sister is a veteran you can take advantage of these discounts.
Veterans Day
We have to clarify that many companies present their own extended plans for veterans on Veterans Day, where they offer even better discounts than what is commonly given to the average user. So with the date approaching it is worth checking out the different offers from your favorite stores.
References