With over 6,000 stores in the United States, Puerto Rico, Mexico, and Brazil, AutoZone is the country's most recognized automotive accessories and parts retailer. One of AutoZone's most popular features is that drivers can find details for both domestic and imported cars.
Their customers can go to a store and find a large inventory of tools such as oil filters and wiper blades, replacement equipment, and even more complex items such as engine parts and performance upgrades. AutoZone is one of the right places if you need to go to a mechanic or buy something for your car.
What car products does AutoZone sell?
AutoZone has a wide range of automotive products, such as tools, chemicals, fluids, accessories and maintenance items, spare parts, etc. At the retailer's branches, you can get anything from simple brake fluid to the most critical and hard-to-find part because AutoZone sells items for different car models.
The company offers a variety of prices and tools necessary for the correct operation of the vehicle, providing great diversity in the budgets to meet customers' needs. Among all the items found in AutoZone's vast catalog, you can find what you need according to the category. On AutoZone's website, they divide the products into the following sections:
Batteries, Starting, and Charging.
Brakes and Traction Control.
Collision, Body Parts, and Hardware.
Cooling, Heating, and Climate Control.
Drivetrain.
Electrical and Lighting.
Emission Control and Exhaust.
Engine Management.
EV Drive Motor and Components.
External Engine.
Filters and PCV.
Fuel Delivery.
Gaskets.
Ignition, Tune Up, and Routine Maintenance.
Interior.
Internal Engine.
Powertrain.
Suspension, Steering, Tire, and Wheel.
Truck and Towing.
Does AutoZone price match?
AutoZone price matches depending on where you are located. Since there is no official policy on price matching, this will vary depending on which branch the customer goes to. While some stores may agree to price match an item a competitor sells, others will not.
The buyer can request a price match, although he will only sometimes get it. The customer must demonstrate that an item is cheaper at a competitor's location, for example, Walmart. This can be done by presenting an updated digital or paper brochure that corroborates that the prices do not match and that AutoZone charges more than Walmart.
To avoid inconvenience and disappointment, the best thing to do is to verify in advance that the AutoZone store will accept the price comparison and price match. In any case, this will depend entirely on the branch since, in some stores, this price matching is possible with certain products or services eligible for this discount. You should be aware of these potential restrictions when visiting the AutoZone store.
Pros and cons of shopping at AutoZone
AutoZone is one of the best companies that sell items for vehicles since they have a wide variety of spare parts and other things. However, it also has its downsides, which could make the customer decide to match prices with other companies.
Advantages of AutoZone
Wide variety of parts and accessories for cars of different makes and models.
Employees are trained to help you find the accessories or spare parts you need for your vehicle. If you have any questions, do not hesitate to contact a customer service employee.
AutoZone provides a warranty on many items. Hence, customers have the peace of mind that they can return the product, and a guarantee assures the quality of the part.
AutoZone has competitive prices on its products, as several competing stores exist.
The company offers to match prices if it is proven that another site sells the same product for a lower value.
Disadvantages of AutoZone
As a popular store, AutoZone branches tend to have many customers on hold, so wait times can be longer than at other stores that are not as well known.
While the establishment carries various parts and accessories for vehicles of different makes and models, it may not have the exact part you need for your particular car model.
AutoZone employees do not give you detailed advice on more complex repairs. However, they are available to find what you need.
The enterprise offers limited services. For example, you cannot take your car to one of their stores for repairs. However, they will be able to advise you and recommend repair shops to which you can take your vehicle for repairs.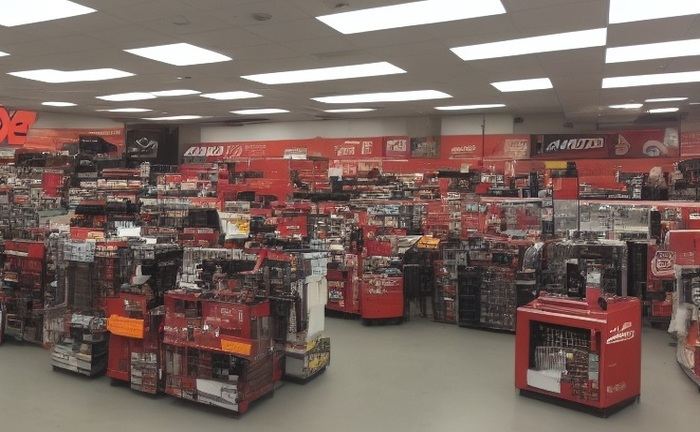 Learn how to use the price match tool on AutoZone
AutoZone has a "Price Match" policy, which allows customers to match the store's price with a competitor with the same product at a lower price. The buyer must comply with several steps and requirements to match AutoZone's prices.
Find the part or item you want to buy on AutoZone.
Check with other companies to see if they have the same product at a lower price. Verify that the item has the same characteristics and is the same to request the AutoZone price match.
Take a screenshot or print the brochure with the competitor's price.
Take this proof of the lower price to the AutoZone branch and request the product you wish to purchase at the competitor's price.
Show the cashier proof that the product is the same, but the price is lower, and he will match the price.
Keep in mind: You must verify that the product is identical to the competitor's. This "AutoZone Price Match" policy does not apply to purchases through the auction and buy-sell website or third-party advertisements. Also, the product must be in stock at the competitor's store to verify the updated price. Don't forget to check the policies of each AutoZone branch, as not all of them offer the same policy and do not match prices.
FAQ(s)
Does AutoZone price match with Amazon, Advanced Auto, and RockAuto?
AutoZone does not price match with Amazon because AutoZone does not compare and match prices with third-party sellers. As an online retailer, AutoZone does not typically price match with RockAuto. The same happens with Advanced Auto, although some locations may not accept price matching.
Does AutoZone price match with Walmart?
As a significant competitor, AutoZone does the price match with Walmart.
Does AutoZone match Napa's price?
AutoZone price match with Napa, as Napa generally has higher prices than AutoZone.
References