If you know the first thing about Greek life, you have undoubtedly heard of Alpha Kappa Alpha sorority. Founded in 1908, this Sorority is the USA's oldest Greek-letter organization representing Black women.
Over the years, it has boasted some incredibly prestigious members. This roster of famous Black sisters includes Maya Angelou, Toni Morrison, Alicia Keys, Coretta Scott King, and Rosa Parks herself. Here we'll tell you how much it costs to join, among other aspects that you may find relevant.
How to join Alpha Kappa Alpha?
If this legacy inspires you, consider becoming a member of AKA yourself! The Sorority recognizes two types of members: undergraduate and graduate members. Suppose you attend a university with an AKA chapter and meet basic requirements (such as at least 12 semester hours and a minimum GPA of 2.5). In that case, you can go through a "rush" and be invited to join your university's chapter.
Even if you have already graduated, you can still join a graduate chapter by attending its events, getting to know your local chapter's members, and finally receiving a letter of invitation.
What are the three ways to become an Alpha Kappa Alpha member?
There are three ways through which a prospective candidate can become an Alpha Kappa Alpha member: Undergraduate membership, Graduate membership, and legacy candidate.
Undergraduate Membership
To become a member of Alpha Kappa Alpha, you must attend the official rush event. The information about the Rush event, such as the date, time, and location of the activity, is posted a minimum of 2 weeks in advance. However, the college/university may impose additional requirements that affect the membership process. Therefore, the potential candidates who do not attend Rush are ineligible for candidacy consideration at that time.
The "Undergraduate Membership Interest Application Form" will assist prospective candidates in preparing for a Rush event.
Graduate Membership
Becoming an Alpha Kappa Alpha graduate member is only possible through invitation. The process starts when the applicant receives an official letter of invitation. The invitation is given by local graduate chapters only. The local chapter members host public events that candidates may attend to become Alpha Kappa Alpha's graduate members.
Legacy Candidate
The prospective member shall submit a legacy application to become a legacy candidate. A legacy candidate is a candidate who is the daughter, adopted daughter, granddaughter, legal ward, or stepdaughter of an active member or deceased member.
It is required that a living family member must have been an active member for at least 2 years (two years are defined as twenty- four consecutive months) immediately preceding the submission of an undergraduate/graduate legacy application. However, undergraduates/ graduates applying as legacy candidates must fulfill other membership requirements.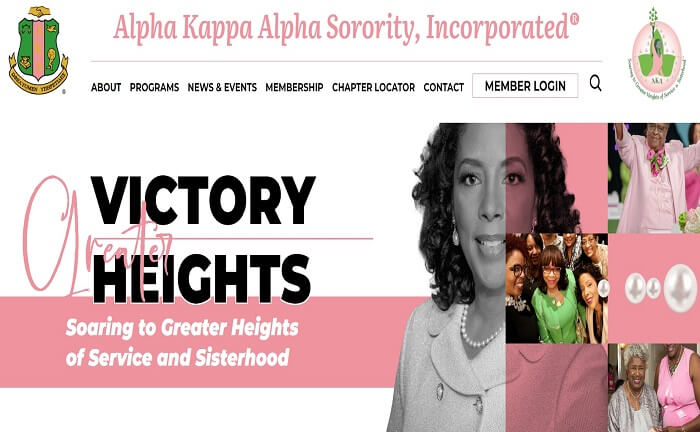 How do you get invited to Alpha Kappa Alpha?
There is an official process of admission of graduate members (MIP). It is only possible to apply for it by invitation. One of the local graduate chapters must present the invitation for you to become a member of Alpha Kappa Alpha. It is not possible to ask to be invited to join.
Alternatively, you may also join by completing the Sorority's official Membership Experience (ME). As stated in Alpha Kappa Alpha's policies, it is essential to note that any prospect has the right to be treated respectfully. Hazing is strictly prohibited.
Can I get invited to AKA Grad Chapter?
Alpha Kappa Alpha graduated Membership Intake Process, or MIP is only accessible by invitation and is a 2-week process. To receive the invitation, you must attend the public events the Sorority hosts to get acquainted with them. One of the local graduate chapters extends the invitation and may not be solicited.
The local chapters host public events like social activities, cultural presentations, and forums, which you may attend to become acquainted with the Alpha Kappa Alpha Sorority members and the community service activities in your area. The chapter locator feature on the site provides the names of the chapter and contacts in your community.
The Membership Intake Process begins with an Official Letter of Invitation signed by the local graduate chapter president. No membership activities will occur before receipt of an official invitation letter.
How long is the pledge process for Alpha Kappa Alpha?
The pledging ceremony is part of the induction into a full member of Alpha Kappa Alpha. The pledging period starts with the beginning of the probation period and ends with the initiation ceremony. The probation period begins 1 week before initiation except on campuses where Panhellenic of administrative regulations differed.
It takes no longer than 6 weeks before the initiation, except where the University of PanHellenic and college or university regulations dictate other procedures. In these cases, copies of the respective college/university regulations accompanied requests for permissions to make these exceptions.
How much does it cost to join Alpha Kappa Alpha?
Students who choose to join this Sorority and are committed to doing so will be charged a fee of $300 to $900. There is also an undergraduate level of membership that ranges in price from $500 to $800.
However, the fee to join Alpha Kappa Alpha may be less, depending on the chapter you join and the college you attend. Therefore, if the Sorority is generally accepted, the final membership fee ranges from $1,250 to $1,400.
Additional expenses to be an AKA member
In addition to the membership price in Alpha Kappa Alpha, other fees may also increase each quarter. Subscription fees can increase from $80 to $100 per year.
In the event that you need to reactivate your sorority membership, you will have to pay between $300 and $500. If you are interested in attending an Alpha Kappa Alpha Sorority event, party, or function, you will also have to pay an additional entrance fee. Below you can find other expenses:
| | |
| --- | --- |
| Type of fee | Cost |
| Member Badge | $ 15 |
| One-Time Initiation Fee | $ 195 |
| Housing Investment Fund Fee | $ 20 |
| Renewing annual membership | $100 to $200 |
Tip: As membership dues increase (either every year or semester), what you can do is get ahead of this by thinking about saving ahead of time. For example, save a certain amount of your allowance or get a part-time job. Don't forget that as a college student you have a lot of expenses, and if you are really interested in being a member of this Sorority, you should be prepared to take care of the expenses.
Aspects to being taken into account about Alpha Kappa Alpha
Alpha Kappa Alpha Sorority does not discriminate in the selection of members on the basis of color, race, age, ethnicity, religion, sexual orientation, marital status, disability, creed, or national origin.
Nor will it tolerate any discrimination by its members or affiliates. In this sense, those invited to join or apply to be part of this Sorority must have high ethical and moral standards. In addition, it is worth noting the following:
If one of its members asks you to perform a task that violates the code of conduct, this behavior will not be accepted or tolerated. Consequently, you will receive disciplinary action up to and including expulsion.
Contacting currently suspended members or engaging in activities outside the official ME process is strictly prohibited. Undergraduate candidates may not participate in any sorority activity without the presence of a graduate advisor.
FAQ(s)
How many credits do you need to pledge, Alpha Kappa Alpha?
Any prospective candidate who participates in pledging willingly or knowingly is forbidden from the sorority membership. Undergraduates who wish to become Alpha Kappa Alpha sorority members should be registered in at least 12 credit hours during the semester the candidate has applied for membership.
What are Alpha Kappa Alpha pledges called?
The people who pledged with Alpha Kappa Alpha are called line sisters. In addition, the pledges call current members of the chapters big sisters or prophets.