The Sonic restaurant chain is well known for features ranging from roller-skating servers to its famous fast food. Not just any restaurant does the same thing; Sonic has a brand.
The Sonic fast food company has recently emphasized developing its mobile app, encouraging people to shop from there because it is one of the fastest ways to shop, especially with its gift card.
What amounts do Sonic gift cards come in?
These gift cards are perfect for all kinds of moments, from a meal, meeting with friends, or giving them to a loved one for a special date. Having one in your possession can be very beneficial.
These cards come in very varied amounts for all customers' uses, meaning that even if you don't have that much money, you can still get one because there are from the cheapest to the most expensive.
You could use a $10 to $15 gift card if you don't want to make food at home. However, if you want to liven up a party with tasty Sonic fast food, then the $25 gift card will do the trick.
Now, the stakes get progressively higher because if you want to give a birthday gift, then $50 to $100 gift cards are best.
Best of all, there is a $75 gift card for people without enough money to get to $100 and who don't want to give $50. These cards can be redeemed exclusively through the Sonic Gift Card mobile app.
How do I spend my Sonic Gift card money?
You probably hear about not being able to consume this card amount directly from the store or website. People are dumbfounded, as they do not understand how they could redeem the amount within it.
But it is quite an easy procedure; you must possess the Sonic device's mobile app. Search for it in the Google Play Store or App Store, depending on your phone, and download and install it.
Once inside it, create an account with your data to make any purchase; if you already have one, log in with your existing account. Now that you are logged in, look for the icon in the lower left corner.
Clicking on the option above will open a navigation bar; look for "Payment Methods" and select the "Add new payment method" option. It will give you several icons to select from; look for "Enter a gift card number."
After you have selected the gift card option, look for your card to transcribe the data on it. The Sonic platform will prompt you for the 16-digit card number and PIN.
Verify that you have entered the correct information to continue with the steps and click on "Apply." Now, you will have to wait a few seconds while your card information is verified, and you can use it to make mobile payments or prepayments.
If the amount on your card is less than the amount of the invoice, it will only be deducted from the total, and you will still owe part of the balance. Therefore, always check your card balance before making any purchase.
How do I check my card balance?
If you have spent some money but are unaware of how much money is left on your card, the best thing to do is check your card balance so you can make another purchase. Sonic offers a web platform to check all available information.
Before you start, have the Sonic gift card at hand because you will need the information on it to check the balance. Once you have the card in your hands, enter the official platform.
Once there, you will be asked for the 16-digit number of the Sonic gift card and its PIN. Enter them carefully because if you make a mistake, you will not be able to get the card's balance.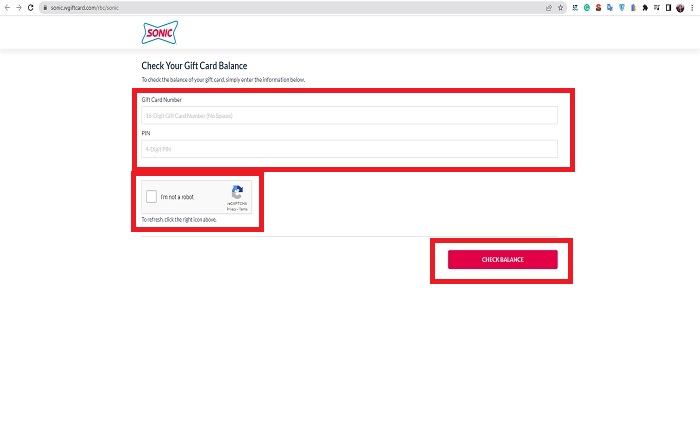 Below is a captcha, which is a method of verifying that you are not a robot. You will be asked to search for objects in a certain number of images and when you finish, click on verify.
After you have done all the requested processes, you only have to click on the red "Check balance" button, and after a few seconds, you will have received all the information.
References
Was this Content Helpful?