With the pandemic, remote jobs are gaining ground against face-to-face careers. Thousands of companies have begun to implement this method in the face of the economic crisis caused by quarantine, and Apple is one of them.
Undoubtedly, working from home has been key to complying with the restrictions imposed by the highest health agencies during 2020 and 2021. However, this work mode is still going strong in 2022, so Apple started looking for at-home advisors to fill these positions.
Apple at home advisor pay
Apple at-home workers will receive all the necessary technology and support to perform their work properly, as long as the employee fulfills requirements such as having internet and a computer, among others.
An Apple at-home advisor is dedicated to answering customer calls to advise them on what they need in case they have any problems with services, purchases, assembly, upgrades, or the use of devices. With this job, Apple confirms that it "supports the customer and technology".
Home-based workers are the human contact the company offers its customers, so they are an essential part of the company. For this reason, Apple hires friendly, real, empathetic, and attentive people to solve any trouble or doubt that Apple users may have.
Requirements
Among the conditions and skills that an Apple at-home advisor must have, we can mention the following:
Easily understanding and serving the customer.
Swift problem-solving on the spot.
Passion for their work and the user experience.
Adaptability to different ages and styles of audiences.
Ability to face a changing work scenario.
Ability to help others and share acquired knowledge.
A strong sense of teamwork and care for internal relationships to provide better service.
Self-management and ability to work independently.
Organization and task prioritization.
Ability to multitask at certain points.
Facility to solve technical problems.
Interest in researching each product and service characteristic.
Constant update of skills and specialized tools.
Accept new challenges proposed by the company.
Experience with iOS, PC, Mac, Tablet, Smartphone, and other Apple electronic devices.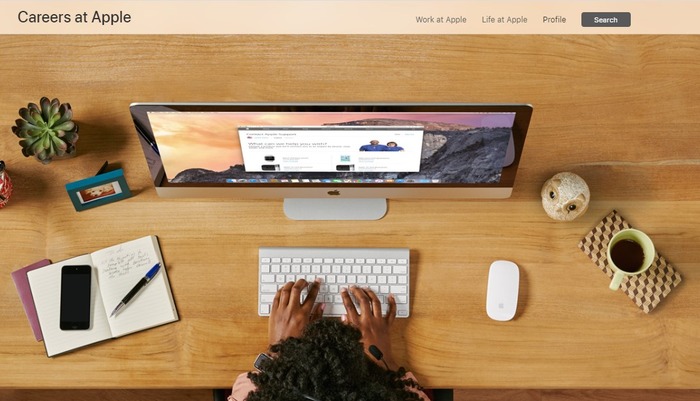 Benefits of an Apple work-from-home job
Apple offers several advantages and benefits to its employees, either full or part-time, to promote a good working environment. In addition, employees will have great growth not only professionally but also personally, which will allow each one to aspire to a higher position within the company.
Paid vacations.
Discounts on Apple products and services.
Discounts in selected stores.
Equal opportunities.
Social inclusion. Gender and labor equality. No distinction between race, religion, color, sex, gender identity, sexual orientation, national origin, veteran status, or disability. The important thing is to be qualified to fill the job.
Applicants with a criminal record may be considered according to the law.
Payment for apprenticeships in different company technologies, products, and services.
Ongoing training through online meetings.
Types of Apple at-home advisor
There are three different opportunities to work for Apple from your home office, attending to customer requests. Depending on the position, the Apple at-home advisor pay will be.
Apple at-home advisors are workers who function as the main voice of the company, as they are the first contact with customers. Their main task is to answer any questions that users may have about Apple services or products, solving any problems. The technical support they offer customers is exclusive and professional, so it is necessary to have accurate knowledge and, above all, to have listening skills, empathy, predisposition, kindness, attention, and sympathy to meet all users' needs and thus improve their experience.
This position is for the person in charge of supervising an at-home team, resolving their doubts, and promoting employees' development, skills, and knowledge. The manager must be able to explain how to solve a problem most simply so that the advisors can pass this information on to the customers who need it.
In addition, the at-home team manager must manage each one of the Apple customer support, follow up on them, and lead the online training program meetings.
This employee works with each team's team manager, delegating tasks according to the number of employees, sectors, etc. The At-Home Area Manager should supervise the work of all other employees working from home and be present at training meetings.
The supervisors must be trained to advise on any commercial and marketing issues.
What is the Apple at-home advisor salary in 2022?
Apple at-home advisor salary varies by position. An average wage is $31.38 per hour; some earn $11 and, in more senior roles, up to $59 an hour. A home-based worker can make about $1,255 per week, equating to $5,439 per month.
The average annual salary for an Apple at-home advisor is about $79,000 in 2022. The Apple support salary can range from $19,500 to as much as $140,500 per year.
References:
Was this Content Helpful?