Vanilla Visa gift cards have become quite popular payment methods due to the many places they are accepted and their many features.
But, such as any gift card, they sometimes need to be activated. Although it is a fairly simple process, knowing how to activate the gift card is necessary.
What is the process for activating a Vanilla Gift Card?
Activating a Vanilla gift card does not require a very complex process; when purchased on the official website for this purpose, almost all Vanilla gift cards come pre-activated and do not require any additional steps.
However, sometimes their users must activate Vanilla gift cards manually.
When they need activation, there are two ways to do it. The first is by entering the corresponding web page to activate. All you have to do is enter your login information. Once in the account, follow the instructions on the page, and that's it.
On the other hand, the ideal process for those who are not very computer-literate is to locate the contact number on the back of your card and call.
The call will be free no matter how long, and the operator will ask for your card details and other verification data, such as your card number, validation date, and security code.
Usually, you will also find the security code on the back of the card. But, if you can't find it when you have your card at hand, you can ask the operator, and they will be able to guide you.
How do I redeem a Visa gift card at Amazon?
One small drawback with Visa gift cards is that Amazon does not accept them as a payment method. Fortunately, it's nothing that can't be solved.
It is entirely possible to register the balance of a Visa gift card as if it were a credit or debit card. Amazon accepts both. This process is usually hassle-free.
To get started, you must be logged in and go to the Amazon reload balance page.
Once there, you will find a box where you can choose between $25, $50, and $100. Enter the exact amount of the card amount that does not correspond to any of those options. After entering the amount, you must click "buy now."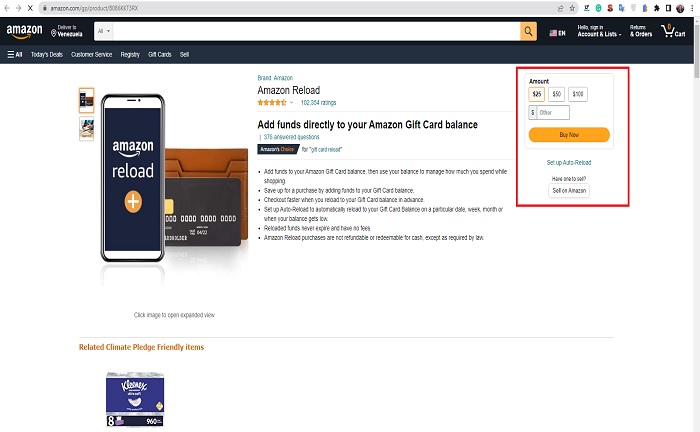 At that point, you must click on "Choose a payment method," followed by "Add a credit or debit card," and enter all the gift card information as if it were a debit or credit card.
You will need to provide the name of the card. If unsure, call the phone number on the back of the card and ask an operator. You may be asked for some information.
To finish the process, you must choose "Add your card," which will be added as one of your payment methods. You will then be able to use its balance for any purchase you wish to make on Amazon.
Can the Vanilla Gift Card be used anywhere?
After you have activated your card, you may wonder if you can use it anywhere or if there are any limitations.
In a very broad sense: Yes, as long as the card is accepted as a payment method, it can be used anywhere. It is accepted in many virtual and physical stores.
It can be used anywhere in the United States and the District of Columbia. The card cannot be used when the site is based outside these borders.
References