Uber Black, Uber's specialized luxury service, has taken a great stir since its test in the city of San Francisco and subsequent establishment in the world. Characterized by a high-luxury service where cars must meet a series of requirements established by the company.
Besides being a service a little less requested than the normal one since it is up to 3 times more expensive depending on the city, this is a service where more money is usually earned than with standard Uber transactions. So it is worth taking a look at the specifications that vehicles must meet to provide this service.
What are the Uber Black requirements?
Uber Black's list of requirements focuses on offering users a high-luxury and personalized service that is not offered in standard Uber. Focusing the transportation on a true luxury experience rather than fast mobilization. So normally services of this type are not focused on getting there fast, but on offering an enjoyable experience.
To become an Uber Black driver, first, you must have an average rating of 4.85 stars in the standard service. This along with having commercial insurance that covers any kind of inconvenience during the service. In the same way, you will have to comply with the required paperwork according to the city.
This paperwork may vary according to state laws, but occasionally a customized license will be required. This can be verified through Uber's website in the "Local requirements" section where you will see the necessary paperwork. However, your vehicle must also meet certain specific characteristics.
Requirements to work for Uber Black
Average rating of 4.85 stars in standard service.
Commercial insurance to cover inconveniences during the service.
Quality service in terms of customer service.
Paperwork that varies according to state laws, although the basic one is the personalized license.
Vehicle no more than 7 years.
-
What qualifies as an Uber Black car?
Once the personal requirements have been met, it is time to analyze which vehicles are qualified to offer Uber Black service and which are not. First, vehicles eligible for Uber Black must be no more than 7 years old (this will depend on the area). In the same way, they must comply with the characteristic of being black in its entirety, both in the exterior and interior.
The latter is to maintain the same style in all of the vehicles, resembling what would be a classic limousine. That is why vehicles with at least 4 seats additional to the driver are also requested. This is because large groups usually request this service.
Finally, the vehicle must have a functional air conditioning system and be in perfect condition. This means that the vehicle itself must not have any aesthetic damage or visible stains, and the windows must be in perfect working order. All these characteristics will be verified in an appointment with the Uber Black team.
Which vehicles qualify for Uber Black and SUV?
On its website, Uber highlights a list of vehicles that are allowed to work as Uber Black, although they must have the characteristics already specified. The same happens in the Uber Black SUV service, with the difference that in this case, the vehicle must have at least 6 seats in addition to the driver.
Some of the vehicles that complement this list are:
Audi: A8 L
BMW: X7, 5-Series, 5-Series 530e, 7-Series, 7-Series 745e, 740i
Cadillac: Escalade, CT6, CTS, XTS, Escalade ESV
Chevy: Tahoe, Suburban
Ford: Expedition
GMC: Suburban, Yukon XL Denali, Yukon XL, Yukon
Lexus: GS, LS, GX
Lincoln: Corsair, Nautilus, Continental, Navigator
Maserati: Quattroporte
Mercedes-Benz: E350e, E-Class, S-Class, GLS-Class, GL-Class
Tesla: Model Y, Model X, Model S
Volvo: S90, XC90, S90 Hybrid, XC90 Hybrid
This is a list that is constantly updated, so it is advisable to check your vehicle on the Uber website where updates are uploaded. Furthermore, certain requirements may vary depending on the specific city, so it is advisable to contact the helpdesk.
Does Tesla qualify for Uber black?
Since their appearance on the market, Tesla vehicles have become considered true luxury cars that leverage automotive technology. That is why Uber Black allows them to be part of the program as long as they have the care characteristics. That is, they must be in the best possible condition and both their exterior and interior must be black.
Tesla vehicles are usually considered a good option to work as an Uber Black driver given their low fuel usage. Something that stands out compared to the other vehicles that make up the list that sometimes tend to generate large expenses in gas.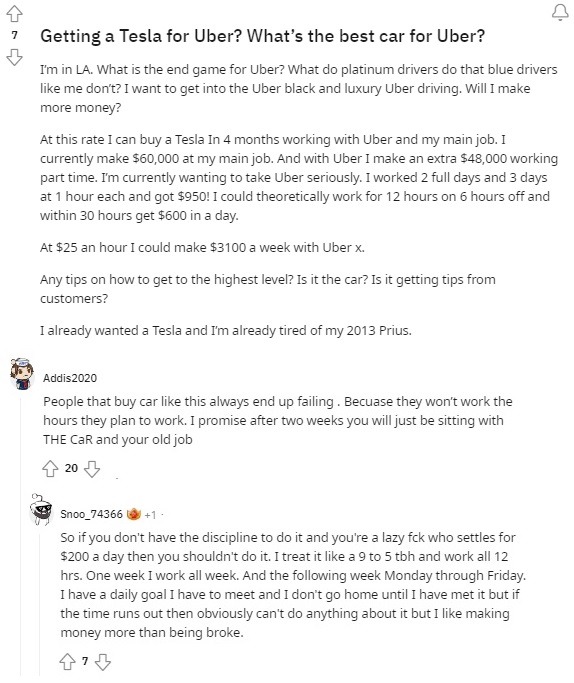 Similarly, offering Uber services in a Tesla can create good reactions from customers who are not accustomed to this type of service. This allows you to maintain a high rating based on the service you provide. Allowing you to balance the calm, relaxed, and quiet Tesla ride with excellent personal service.
How can I become an Uber Black participant?
If the idea is to start receiving Uber Black transportation requests, you will first need to meet the criteria and go through a testing process. To do this you must have all the required documentation and maintain a 4.85-star rating consistently.
If you meet the given requirements and intend to become an Uber Black driver, you should contact the Uber team to find out if they need drivers. In case the answer is positive, they will set an appointment with you to pre-check your vehicle.
As this is not a service requested as often as the standard Uber service, it is normal that sometimes there is no availability for new drivers. Likewise, this will depend on the city and the area where you are, since in big cities they never stop looking for new drivers.
References
Was this Content Helpful?
YesNo