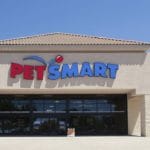 PetSmart
PetSmart is one of the biggest pet suppliers' retailers with over 1500 locations in the United States, Canada, Puerto Rico. This store employs thousands of people every year.
There are many hire opportunities available, with many full-time and part-time jobs to fill at each location. This pet supply store offers positions like cashier, bather, groomer, early morning stocker, pet care associate, and pet product associate.
PetSmart accepts job applications every day on an online career site. Applying online is best as the administration also encourages candidates to submit their applications online. You can log in to their official PetSmart account and hunt job openings. Applicants must prepare themselves as PetSmart takes drug and background screening.
Applicants Requirements
You are getting a job at PetSmart to require some requirements that you have to qualify for employment. PetSmart seeks employees that meet their hiring needs.
You have to be at least 18-year-old to start work at PetSmart.  

You have to pass a pre-employment drug test and background check.

PetSmart seeks employees who have good people skills and experience to perform a task in less time.

You have to be active, and enthusiasts forget a job at PetSmart.

Previous working experience is necessary.

You have to be good at dealing with various animals ranging from cats and dogs to fish and snakes.
How Old Do You Have to Be?
PetSmart is a popular choice for those who love animals. This Pet supplier retail store is best for newcomers as it offers a friendly environment and a healthy workplace for work. The minimum age requirement for a PetSmart career is 18-year-old.
How to Apply Online at PetSmart?
Considering PetSmart employment is the best option if you are interested in working in the retail pet supplier industry.
To begin the filling process of the application form, first visit the PetSmart

career

page.

When the career page opens, you will see the career options. Pick out a job type you desire, and then select the location.

Enter your zip code to find a location and the number of miles you would be willing to travel for work in a store.

Select the convenience store for you and proceed with submitting your online application for a specific store.

You have to create an account to begin the application process. Follow the instructions to create a new account.

Enter your personal information such as first name, last name, email, password.

Read terms and conditions and click the "I Agree" button.

Put down your personal information like address, city, country, postal address, zip code.

Complete all questionnaire sections of the form.

Mention your previous working experience, education history, and references if you have any. 

Then review the whole application and hit the submit button.